Growing pro bono load shared by fewer lawyers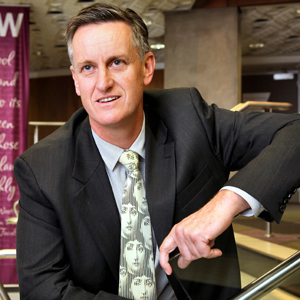 A national report has found that fewer large law firm lawyers are participating in pro bono programs, but those who are increased their pro bono hours this year.
The National Pro Bono Resource Centre (NPBRC) released a report today revealing that the number of pro bono hours per lawyer per year increased to 31.7 hours in large firms, compared with 29.9 hours in 2012 and 29 hours in 2010.
However, participation rates fell to 50 per cent, down three per cent on 2012.
The report is based on data collected from 41 of the 55 firms in Australia with 50 or more lawyers.
Speaking with Lawyers Weekly, John Corker (pictured), director of the NPBRC, pointed to a number of factors that could be contributing to the decline in participation, including the globalisation of the legal market.
Eight of the 41 firms surveyed were global firms, and half of these firms reported that lawyers in Australia do more pro bono work than their overseas counterparts, which could be skewing participation figures.
Corker also commented that an increasingly competitive legal market could be putting pressure on firms to prioritise commercial work.
"In that type of environment you'd expect some pressure on capacity for pro bono," he said, adding the warning that "if firms let their pro bono practice run down, it's hard to get it back up again".
Firms are also moving away from providing full billable hour credit recognition for their lawyers' pro bono work, the report found.
Corker said this was a concerning trend. He claimed that quantifiable recognition of pro bono work, including billable hour credits, is how lawyers gauge how seriously a firm takes its pro bono program.
"All the work we have done over the years has shown that lawyers within firms do take a strong indication of their firm's commitment to pro bono on the basis of … whether pro bono work is seen as equal to the commercial work, whether it is treated in the same way," he added.
Access to justice?
The report revealed that large law firms undertake around 65 per cent of their pro bono work for organisations rather than individuals, and most pro bono services were only relevant to an organisation's legal needs, such as governance and commercial agreements.
Corker highlighted that access to justice, the philosophy behind pro bono, is about assisting individuals.
"The danger, I suppose, is that all the work is done for organisations and you lose that sense of providing better access to justice for those who wouldn't otherwise access it," he said, adding that firms must strike a balance between assisting organisations and individuals.
"It is not a matter of all one way or all the other."
Corker said there are, however, practical reasons why organisations are getting the greater share of pro bono work.
A majority of pro bono participants are lawyers in corporate law firms whose skills are better suited to assisting organisations. Consequently, firms often reject requests for assistance in family law matters, claiming they do not have the expertise to take on the work and are not prepared to risk advising individuals incorrectly in such a complex area of law.
Give them a reason
Corker wants to see the reported figures grow to a level that will more adequately address unmet legal need and he believes governments have a role to play in achieving this.
Governments can encourage firms to increase their pro bono capacity by adopting the National Pro Bono Aspirational Target of 35 pro bono hours per lawyer per year and tying it to their legal panel arrangements, Corker said.
Most of the firms surveyed by NPBRC agree, with 88 per cent of respondents claiming the inclusion of pro bono conditions in Victorian and Commonwealth government tender arrangements for the purchase of legal services was useful in encouraging firms to take on pro bono work.
"Government can leverage its purchasing power as a consumer of legal services … to encourage law firms to be better corporate citizens," said Corker.
"If government do their part in terms of adequately funding the legal assistance sector, law firms can do their part in terms of making available some pro bono capacity."
A total of 74 Australian firms are signatories to the target, 32 of which were surveyed by NPBRC. A quarter of the surveyed signatories met or exceeded the target in 2014, compared to just 15 per cent of all firms covered in the report.
The report also revealed that signatories to the target performed better across all of the main pro bono metrics.
Signatories reported a higher average of pro bono hours per lawyer (34.6) compared with non-signatories (14.5), as well as a higher participation rate of 54 per cent, compared with 33 per cent for non-signatory firms.
NPBRC released an interim report in October with headline performance figures from its Fourth Biennial National Law Firm Pro Bono Survey. The full report, released today, provides a more in-depth analysis of the survey results.