The business case for human rights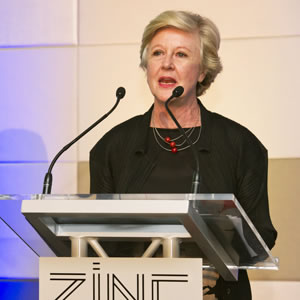 Professor Gillian Triggs has said that in-house counsel can protect business interests by promoting human rights within their organisations.
"A diverse and inclusive culture is both best practice and advantageous in a global, competitive market," said Professor Triggs (pictured) during her keynote address to the Australian Corporate Lawyers Association's (ACLA's) Corporate Counsel Day on March 4.
"Diversity in employment … can obviously resolve labour shortages. It improves staff loyalty – you retain high-quality staff, you enhance business reputations and images and you get this innovation.
"We are wasting our resources because of stereotypical views as to what people can do," she said.
Professor Triggs quoted "breathtaking" statistics compiled by Deloitte Access Economics, which the Australian Human Rights Commission (AHRC) – of which Professor Triggs is president – contracted to study the economic cost of age discrimination.
The study found that in 2012 an increase in five per cent in paid employment from Australians aged 55 and over would have had a $48 billion impact on the Australian economy.
Professor Triggs also pointed to a 2009 study showing that closing the gaps in male and female employment would boost Australia's GDP by 11 per cent and a recent study by the Grattan Institute, which demonstrated that a six per cent increase in the number of women in the paid workforce would expand the Australian economy by $25 billion a year.
"Exactly the same statistics by Deloitte Economics in relation to disabilities say that if we started employing people more with disabilities, we'd get a $43 billion cumulative increase in Australian GDP in the next decade in real dollar terms," she said.
Making partners
Professor Triggs said the AHRC works with in-house counsel on a daily basis to resolve individual complaints from employees, but emphasised that the commission's primary aim is collective progress.
"It's not our business to be hitting people over the head with regulatory processes. We don't want to be dealing with an instant complaint. What we want is systemic change," she said.
Employment is the context in which most discrimination complaints are lodged: 80 per cent of sex discrimination complaints and 62 per cent of age discrimination complaints are work-related.
Contact with the AHRC during the complaints process put in-house counsel in a good position to advise their organisations or government departments about how to avoid these situations in the future, said Professor Triggs.
"It is the corporate and business world that will actually be the champions and leaders of a corporate change that takes into account the human rights and anti-discrimination laws that we are all bound by," she said.
Professor Triggs said one of the lessons the commission has learned is that bigger companies are less likely to have human rights problems because they employ legal staff that are on top of the law and understand the ethics.
"Where we do feel the biggest problem lies is with the small and even medium-sized companies because they haven't got the resources to fully interpret and keep up with the latest amendments," she said.
For instance, in 2013 the government amended the Sex Discrimination Act to incorporate sexual orientation, gender identity and intersex. Companies that were not mindful of the changes found themselves before the commission due to complaints on these new grounds.
Professor Triggs said the commission was trying to encourage large companies to influence the smaller companies in their supply chains by sharing knowledge and skills in the area of human rights law.
Getting the law right
The AHRC conciliates about 70 per cent of complaints, despite receiving about 23,000 every year.
"In the very infrequent cases where the complainant or the respondent is not happy, then they have the right to go to the Federal Court and have the matter determined," Professor Triggs explained
"About three to four per cent appeal to the Federal Court but we have never been, certainly in the last 20 years, overturned by the Federal Court on a substantive point of law.
"We pretty much get the law right," she said.
The AHRC has a legal jurisdiction to investigate and resolve complaints but it does not have the statutory independence of a court.
Through the complaint-handing process "we are in a unique position to understand what is happening at the coalface in Australia in relation to human rights", said Professor Triggs.
She acknowledged that it is not always easy for the public to understand why the AHRC's point of reference is international as well as domestic law.
"We get into a bit of trouble in the public arena because people say, 'Why do [you] talk about the provisions of these treaties when Australian domestic law does not incorporate it?'" she said.
However, the AHRC uses international law because Australia does not have much legislation in relation to human rights and does not grant citizens constitutional rights or have a federal Charter of Rights.
The AHRC has a mandate defined by reference to the treaties to which Australia has become a party, including The International Covenant on Civil and Political Rights and the Convention on the Rights of the Child, but it also has a mandate defined by domestic law as it relates to race, sex, disability and age, added Professor Triggs.