Jury still out on in-house vs law firms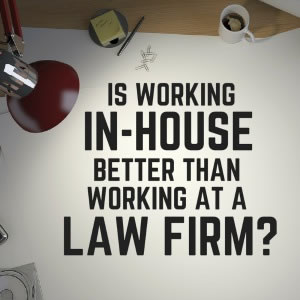 Lawyers seeking to balance family and personal commitments with work are increasingly looking to in-house roles to provide this lifestyle but the jury may still be out on the benefits of moving in-house.
Life in a large law firm carries with it long, inflexible hours, demanding clients and billable hour targets, which effectively block parents who are primary carers from climbing to the highest ranks.
In-house lawyers may escape some of the stress and challenges of private practice but, according to Lawyers Weekly's readers, there are still drawbacks to this line of work.
Lyn Boxall, a Singapore-based lawyer with experience in private practice and consulting, said working in-house can be "miserable" if senior management has a bad attitude.
Equally, "working under the thumb of a partner who has no home life and believes that the same should apply to everyone in the team" can make life at a law firm unbearable, she said.
The single biggest difference between in-house and private practice, according to Ms Boxall, is the extent to which employers insist that work should be put before all other commitments.
"When in an in-house role, if at 5pm the unwelcome news that X is required by 9am the next day it almost always means that the evening's planned sporting or social activities can still happen (sadly, sans alcohol!)," she said.
In-house lawyers have the freedom to leave work to socialise as long as the task is completed by the required time, continued Ms Boxall.
In private practice, however, a heavy workload will mean "the evening's planned activities are cancelled at the last minute and one works until the work is done".
"The in-house lawyer has the choice of cancelling their social life; the lawyer in private practice generally has no choice about it. That choice is paramount (while I acknowledge that both choices mean working like a dog)," she concluded.
Phillip Hunter, in-house legal senior consultant at Dolman, took the opposite view.
"Oh my... I am not sure which in-house legal professionals Lawyers Weekly has been speaking with...? Every day I hear from my candidates and clients that in-house is just as much – if not more – hard work than being in a law firm," he said.
Mr Hunter said the limited resources, tight budgets, lack of support and greater diversity of advice required of in-house lawyers all increase stress.
Also, "you can't go hide from your clients – they are sitting next to you", he added.
"As for flexibility, the old buzz-term 'work/life balance' is a dirty word now. It is all about 'work/life integration'," he said.
Work/life integration means checking emails and doing work outside of business hours and taking time out of work to take care of personal affairs.
Breadth vs depth
Mr Hunter admitted that work satisfaction is probably high amongst in-house lawyers since being close to your client means seeing your advice implemented and ultimately helping the business.
A senior in-house lawyer said working in-house was stressful but "a lot more rewarding" than working in private practice.
"The private lawyers may know some of the law in greater detail in some instances, but the in-house lawyers know how the application of the law will truly affect the business," she said.
Special counsel at Herbert Smith Freehills, Fiona Austin, argued that both in-house and private practice were intellectually engaging and that interest will depend on individual preferences.
"If you are most energised by influencing business outcomes with non-legal professionals and working at the commercial front line then in-house brings you greater pleasure," she said.
"If you are most energised by theories of legal reasoning and argument then you will find law firm work more stimulating."
On the other hand, a lawyer at Ashurst in Canberra, Dunja Cvjetićanin, said businesses "invariably engage private law firms when they need specialist legal advice" and that she finds it "fulfilling and exciting" to study legal matters in depth.