Former refugee wins industry award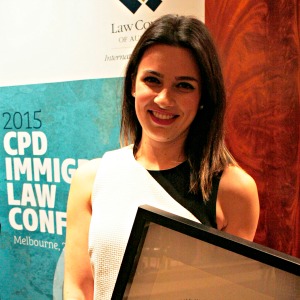 A supervising solicitor and migration agent who fled Croatia and Bosnia in the mid-1990s has been named Young Migration Lawyer of the Year.
Last week Marina Brizar (pictured) was recognised for promoting the rights of refugees and asylum seekers with the Law Council of Australia's 2015 John Gibson AM Young Australian Migration Lawyer of the Year Award.
The University of Technology, Sydney graduate arrived in Australia as a refugee in 1995, aged five.
Now 25, Ms Brizar is a senior lawyer at Playfair Visa and Migration Services, where she works with paying clients on corporate immigration law matters as well as providing extensive pro bono work for community organisations.
Ms Brizar has also worked as a research assistant to several academics and as a team leader and claims assistance provider during two offshore processing deployments.
The chair of the international law section of the LCA's Migration Law Committee, Erskine Rodan OAM, said that despite Ms Brizar's youth, she had already made a significant contribution to the field of migration law.
The award was presented at the 2015 CPD Immigration Law Conference Dinner in Melbourne held on Friday.