Baird victory good news for lawyers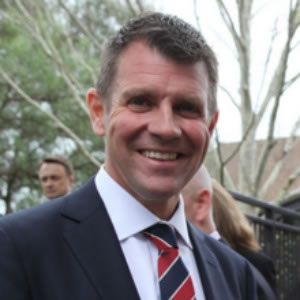 The Liberal-National Party election win in NSW will create a flood of work for lawyers and boost the state's economic activity, according to a partner at Minter Ellison.
The election on Saturday (30 March) saw the Coalition win 52 seats to Labor's 32.
According to Virginia Briggs, the head of Minter's NSW government practice, the result means plans by Premier Mike Baird (pictured) to privatise electricity assets are likely to come to fruition.
"That will mean he has roughly $20 billion to put into an infrastructure fund," Ms Briggs said. "For lawyers, that means there would be a lot of legal things to do in delivering that infrastructure to the people of NSW."
Ms Briggs suggested the government may also have a broader mandate for privatisation, pointing to other government assets she considers "ripe for recycling".
"There will be a lot of activity in the asset-recycling space. In fact, we're acting for the government already on a couple of confidential projects that deal with services outsourcing and outsourcing income streams. I think there will be a lot of new work for lawyers."
Building up work
Ms Briggs also expected infrastructure deals to experience an upswing under the Baird government, with funding for the WestConnex road project taking prominence in the Liberals' campaign.
In addition, Ms Briggs pointed to likely funding injections for health and educational infrastructure.
"There has been a big focus on keeping hospitals like Westmead up to date, so there will be a lot of work with hospitals," she said.
"I think they will do a similar thing with schools. There was a lot of press during the election campaign about the multi-storey schools in Parramatta."
Prisons could also be the subject of new public-private partnerships, creating further work for the legal sector.
Hive of activity
For the economy more broadly, Ms Briggs suggested the NSW government could make the state an economic powerhouse.
"Now that the Baird government have another four years to keep doing what they've been doing and unlock all this cash, the level of economic activity in NSW will far outstrip any other state in Australia."
She suggested NSW's relative political stability was a boon, particularly in light of recent changes of government in other states.
"Because of the recent election results in Queensland and Victoria, their governments are going through a period of transition and their agenda is less certain."
She predicted New South Wales' stability, as well as the government's public works agenda, would be a drawcard for investors.
"In Australia generally there will be a big focus on NSW in terms of both internal economic activity and overseas markets. It will be the place to be in the next four years."