Insurance lawyer wins public speaking award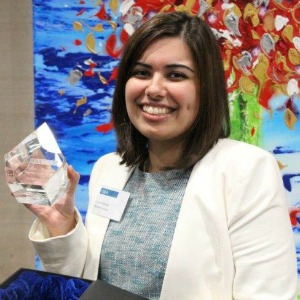 A solicitor from Meridian Lawyers has won this year's Australian Insurance Law Association (AILA) Ron Shorter Memorial Award, which recognises professionalism in public speaking.
Sydney lawyer Divya Pahwa (pictured) took the coveted prize at an event held at CBP Lawyers' Sydney office last night (21 April). She narrowly beat fellow finalists Mark Slaven, a lawyer at McCabes, and Naseer Taseer, a relationship manager at GT Insurance.
Each finalist spoke for 15 minutes on a topic of their choosing without the use of visual aids or notes. They were scored based on the content, structure and delivery of their speech.
Ms Pahwa's talk, titled Blurring the lines between intention and negligence in the context of medical malpractice insurance, was commended by the judges for being both engaging and informative.
Mr Slaven, who spoke about the impact of climate change on the insurance industry, was scored highly for tackling complex issues, while Mr Taseer's speech on the role of an insurance broker in society received a nod for strong delivery.
The judges were Justice Nigel Rein of the Supreme Court of New South Wales, National Insurance Brokers Association CEO Dallas Booth and Lawyers Weekly editor Leanne Mezrani.
Now in its fourth year, the award was conceived by former CBP Lawyers practice manager Ron Shorter before his death in 2012.
The competition is open to young professionals across the insurance industry and aims to assist them in developing their public-speaking skills.