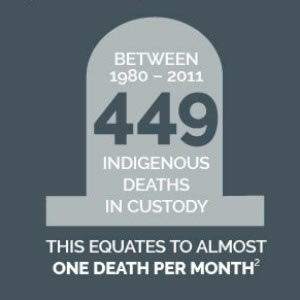 A number of legal bodies have launched a campaign to tackle the high rates of indigenous imprisonment.
The National Justice Coalition's 'Change The Record' campaign, which commences on April 30, aims to address the 88 per cent increase in the number of Aboriginal and Torres Strait Islander people who have been imprisoned over the past decade.
"The campaign has come about through the great frustration among grassroots and other organisations that things are simply not getting any better. In fact, they're getting worse," said co-chair of the National Justice Coalition Kirstie Parker.
Aboriginal and Torres Strait Islander people are 13 times more likely to be imprisoned than non-indigenous people and are at a much higher risk of family violence.
"Frankly, we are all tired of hearing the bad statistics. We know there are solutions and that with a shared commitment, we can change these statistics," added Ms Parker.  
The campaign is calling on the federal government to work with the Council of Australian Governments to reduce the "shocking" rates of imprisonment and cut the disproportionate rates of violence by 2040.  
"We don't believe the current approach to crime and public safety is working, said co-chair Shane Duffy.
"We are spending more and more on prisons and not enough on initiatives that can prevent crime in the first place and divert people away from the criminal justice system. We are telling governments that we need a different approach."
The coalition brings together the Law Council of Australia, the Australian Bar Association, the Federation of Community Legal Centres, the Human Rights Law Centre, National Aboriginal and Torres Strait Islander Legal Services and the National Family Violence Prevention Legal Services Forum, as well as a number of other human rights-oriented organisations.