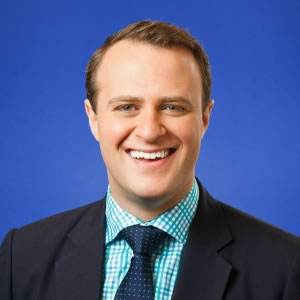 This Law Week, the human rights commissioner will reignite debate on whether legislation enacted by the Abbott Government, including the controversial metadata laws, impinge on basic freedoms.
Tim Wilson (pictured) said the Human Rights Commission (HRC) is well placed to launch an inquiry into legislation that restricts basic liberties, such as the metadata retention scheme and the Foreign Fighters Bill.
He was speaking to Lawyers Weekly ahead of Law Week's "Talking Justice" event to be held in Bendigo, Victoria on 16 May, where he will participate in a panel discussion titled Engagement in a Context of Hostility.
Mr Wilson claimed that, as commissioner, his role is to champion the protection of individual rights, but fell short of defending SBS sports reporter Scott McIntyre, who was dismissed for provocative tweets sent from his private account over the Anzac weekend.
The incident has divided commentators, with some claiming the termination of Mr McIntyre's employment wrongfully encroached on his right to freedom of speech.
But Mr Wilson said he has little sympathy for employees who are fired for publicly expressing a private view.
He claimed the burden is entirely on employees to be appropriate and responsible in the public sphere and abide by the voluntary contracts they have signed.
However, social media guidelines "in principle" should not limit employees "continued participation in free society", he added.
"No employer limits someone's freedom of speech by establishing guidelines," he said. "People have the right to free speech whether they are employed or not."
SBS' code of conduct would have permitted questioning and criticism of Australia's involvement in wars and even the conduct of Anzacs, he explained.
Mr Wilson argues that part of the problem is the culture of outrage, whereby minor indiscretions or unfortunate remarks get blown out of proportion on social media and can end careers.
"What we need is a culture where people are free to express themselves and people don't indulge in confected outrage."
Remembering the summary execution, widespread rape and theft committed by these 'brave' Anzacs in Egypt, Palestine and Japan.

— Scott McIntyre (@mcintinhos) April 25, 2015
HRC president Gillian Triggs takes a different view, writing in The Age this month: "Unlike all other Common Law countries, Australia has no bill of rights and few laws to protect the right to freedom of speech.
"While we may say what we please, subject to defined prohibitions, a practical, chilling outcome of freedom of speech is that we must suffer the consequences if that speech is also a breach of an employment contract."
While abiding by the ethics and values of our employers may seem like a reasonable constraint, it creates issues when the employer is in the wrong or breaking the law, she added.
Other commentators have argued that there is no practical difference between the state and an employer restricting freedom of speech, as losing one's job is incentive enough for most workers to keep silent.
The president and commissioner may disagree over whether employer codes of conduct limit free speech, but both have raised concerns over the potential of recent anti-terror laws to restrict basic liberties.
For example, the metadata retention scheme lacks the necessary safeguards to make sure new powers of surveillance are as targeted as possible, according to Mr Wilson.
He said these safeguards should include proper oversight and transparency around which sorts of crime can attract an investigation of stored data.
"The role of security has a place; sometimes there is a shift in the need to accommodate based on prevalent and existing threats," he said.
"But the way to deal with [these threats] is to make any measure temporary and specific and not give government too much broad-based power."
Speaking more generally about the forms of surveillance that exist in Australia, Mr Wilson said: "[The] commission could do an inquiry or review looking at the full spectrum of issues that exist around retaining data and making sure that high standards are applied."
Tim Wilson will appear with Lydia Shelly and Justice Mordecai Bromberg for a panel discussion on Engagement in a Context of Hostility as part of the "Talking Justice" event, to be held in Bendigo, Victoria, during Law Week (11-17 May).