30 Under 30 finalists revealed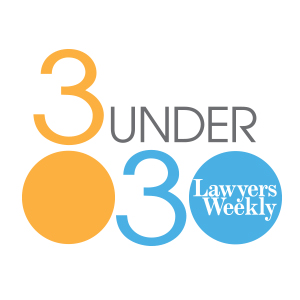 More than 50 firms and in-house teams are among the finalists in the biggest Lawyers Weekly 30 Under 30 so far.
Lawyers Weekly received about 200 submissions over the 10 categories, the highest number since the event was launched in 2013.
This year's awards, to be presented at The Establishment in Sydney on 5 June, have attracted exceptional lawyers from the big firms to boutiques, as well as up-and-coming in-house lawyers within major corporates.
Tickets to the gala event are on sale now - to secure your seats, click here.
Ashurst and Minter Ellison took the most finalists spots, with eight lawyers from each firm in the running for an award.
Norton Rose Fulbright, Herbert Smith Freehills, Maddocks, Gilbert + Tobin and DLA Piper are also strongly represented among the finalists.
Lawyers from smaller firms have also made the short list, including Curwoods Lawyers, Hardey Legal, JHK Legal, McKean Park Lawyers and the recently launched South Australian firm, NDA Law.
All entrants were required to answer five questions, including how a candidate's nominated practice area and the legal profession as a whole could be improved for clients and lawyers.
Finalist responses ranged from improving billing practices to tackling the high rate of depression in the legal profession.
Lawyers Weekly would like to thank all the impressive young lawyers who entered.
The submissions of the selected finalists will be sent to a high-profile judging panel. Three winners will be selected in each category.
See below for a full list of finalists.
Banking & finance
Anna Bennett, King & Wood Mallesons
Jason Bernard, Corrs Chambers Westgarth
Varun Bhatia, Lander & Rogers
Lucienne Cassidy, Ashurst
Steven Catanzariti, Herbert Smith Freehills
Ashleigh Kable, Ashurst
Brian Kirkup, DibbsBarker
William Kontaxis, Salvos Legal
Corinne Rathie, Norton Rose Fulbright
Christopher Shute, Gadens
Mitchell Thorp, Baker & McKenzie
Michael Zheng, Gilbert + Tobin
Corporate Counsel
Sarah Buggy, AMP
Clara Edwards, Australia Council for the Arts
Alison Eveleigh, Nova Entertainment
Charlotte Lau, Telstra Corporation Limited
Sarah Lukies, Wesfarmers Limited
Tess Lynch, REA Group
Scott Newlan, Transport Accident Commission
Michael Simmons, Playfair Visa and Migration Services
Bianca Xerri, Suncorp Group
Courtenay Zajicek, Wendy's
Dispute resolution
Nina Abbey, Maurice Blackburn Lawyers
Andrew Bass, Minter Ellison
Diana Biscoe, Webb Henderson
Jason Carlson, Thynne + Macartney
Patrick Hanrahan, JHK Legal
Alexandra Kirby, DibbsBarker
Daniel Meyerowitz-Katz, Levitt Robinson Solicitors
Jin Ooi, Allen & Overy
Andrew Poulton, McCullough Robertson
Holly Sara, Jones Day
Kirk Simmons, DLA Piper
Garth Towan, Lander & Rogers
Energy & resources
Suzanne Kathryn Brown, McKays Solicitors Pty Ltd
Liam Davis, McCullough Robertson Lawyers
Eugene Edward James McAuley, McCarthy Durie Lawyers
Tom Heading, Norton Rose Fulbright
Louise Lee, Corrs Chambers Westgarth
Libby McKillop, Ashurst
Emma McLeod, Gilbert + Tobin
Callum Strike, King & Wood Mallesons
Prue Warner, Clayton Utz
Carolyn Wong, King & Wood Mallesons
Government
Suzanne Kathryn Brown, McKays Solicitors Pty Ltd
Tom Galvin, Minter Ellison
Daniella Gennari, DLA Piper
Luke Grayson, Colin Biggers & Paisley
Jacinta Goutama, Minter Ellison
Stella Loong, Ashurst
Darshini Nanthakumar, Minter Ellison
Jin Ooi, Allen & Overy
Elise Paynter, Maddocks
Sharon Sangha, Mills Oakley Lawyers
Insurance
Emily Archer, Minter Ellison
Joshua Carton, Norton Rose Fulbright
Laura D'Alessandri, Curwoods Lawyers
Kelvin Liew, Clyde & Co
Dearne Matheson, Wotton + Kearney
Nicole Morgan, Minter Ellison
Stephen Morrissey, Gilchrist Connell Lawyers
Daniel Robinson, Clyde & Co
Michael Rumore, Colin Biggers & Paisley
Tejas Thete, Gadens
Rachel White, Colin Biggers & Paisley
Melissa Zen, Sparke Helmore Lawyers
Intellectual property
Tracy Lu, Allens
Jessica Norgard, Ashurst
Rebecca Silberberg, Baker & McKenzie
James Neil, Clayton Utz
Bridie Egan, Corrs Chambers Westgarth
Eliza Forsyth, DibbsBarker
Anna Smyth, Gilbert + Tobin
Anna Spies, King & Wood Mallesons
Elizabeth Stary, Maddocks
Paul Gordon, NDA Law Pty Ltd
Mollie Daly Tregillis, Norton Rose Fulbright 
James Skelton, Swaab Attorneys
M&A
Elliott Cheung, DLA Piper
Amy Chinnappa, K&L Gates
Michael Compton, Herbert Smith Freehills
Gavin Hammerschlag, Arnold Bloch Leibler
Jason Hewitt, Ashurst Australia
Jacqueline How, Minter Ellison
Jason Jordan, Herbert Smith Freehills
Nicholas Kipriotis, Norton Rose Fulbright
Kate Latta, Maddocks
Chris Rosario, Squire Patton Boggs
Jen Tan, Piper Alderman
Reuben van Werkum, Gilbert + Tobin
Pro bono
Emma Anderson, Herbert Smith Freehills
Kara Cook, Women's Legal Service
Reece Corbett-Wilkins, Norton Rose Fulbright
Alice Greenwood, Ashurst
Steven Craig Hardey, Hardey Legal
James Johnston, Ashurst
Cindy Lim, DLA Piper
Philippa Macaskill, King & Wood Mallesons
Elise Paynter, Maddocks
Michael Simmons, Playfair Visa and Migration Services
Workplace relations, employment & safety
Katherine Zoe Adams-Lau, Herbert Smith Freehills
Michelle Blewett, Printing Industries Association of Australia
Kaitlyn Gulle, Lander & Rogers
Kristen Hammond, Holman Webb
Alana Heffernan, Maurice Blackburn Lawyers
Ajay Mukesh Khandhar, Minter Ellison
Jessica Main, McKean Park Lawyers
Nathan Moy, Clayton Utz
Elise Paynter, Maddocks
Kyle Scott, Australian Business Lawyers & Advisors
Martin Watts, K&L Gates
Amy Zhang, Harmers Workplace Lawyers