Global firm declares support for marriage equality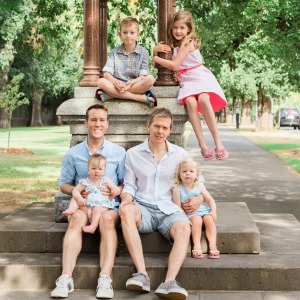 A senior partner has called on law firms to get involved in the debate on marriage equality as Allens becomes Australia's first major firm to publicly state its position.
Allens released a statement supporting marriage equality in the lead-up to International Day Against Homophobia and Transphobia on 17 May.
David Brewster (pictured right with his partner Giles and four children), who has been a partner at Allens for 16 years, said marriage equality is a legal issue and urged lawyers to bring their expertise to the debate.
"At its heart, it's about a section of the community that has been discriminated against," Mr Brewster said.
"If anyone's going to speak up on that issue, we have an obligation to [as a law firm] – and to support employees who are in relationships, but who are, like myself, not treated equally before the law."
Mr Brewster was the first gay partner in Allens' Melbourne office. While he has been openly gay throughout his legal career, many lawyers remain in the closet out of fear that their sexuality could hinder their careers.
Mr Brewster said that fear is misplaced, even in industries that are viewed as conservative.
"I have never encountered any type of negativity or adverse implications from being out," he said, adding that his clients in the mining and oil & gas sector have shown an enthusiasm to support and emulate the LGBTIQ initiative run by law firms.
Mr Brewster, along with fellow Allens partner Rachel Nicolson, was the driving force behind Allens' LGBTIQ network called ALLin.
The network provides opportunities for LGBTIQ employees to build relationships with each other, clients and the community through regular meetings, social events and other functions.
Initiatives such as these could help tackle the high rate of depression in the legal profession, Mr Brewster said.
LGBTIQ individuals are at least twice more likely to experience depression and anxiety than the wider community, according to data from beyondblue. In addition, depression is prevalent among lawyers with a 2009 University of Sydney study showing a quarter of barristers and a third of solicitors suffer from a diagnosable mental illness.
Mr Brewster said the data confirms that LGBTIQ lawyers face a higher risk of developing a mental illness than their straight counterparts, which should motivate firms to step up their efforts in this space.
He also said marriage equality is an important aspect of tackling depression and other forms of mental illness because it recognises the partners who "prop up" lawyers with stressful and demanding jobs.
"In a law firm you rely heavily on your personal support network and, if you're in a relationship, that's your partner.
"There is no way I could have coped for the past 12 years as a partner at this firm without the support my partner has consistently given me, but to be in a situation where my relationship isn't recognised, I find that untenable."
In addition to internal programs, Allens also provides pro bono assistance to help recognise and enforce LGBTIQ rights.
Allens acted for A Gender Agenda in the Norrie decision last year. The High Court ruled that NSW laws permit the registration of a person's gender as neither male or female but as a "non-specific sex", a victory for the intersex community.
The firm has also provided pro bono assistance to LGBTIQ asylum seekers fleeing persecution because of their sexuality, and helped to expunge the criminal records of men who were convicted of homosexual offences under repealed legislation in Queensland.