Firm moves to newly minted offices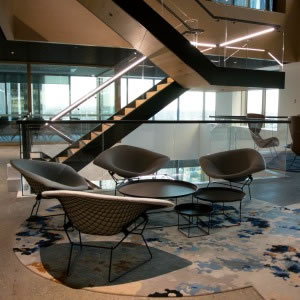 Minter Ellison has shifted its Sydney staff into new digs designed with innovative work practices in mind
The firm's Sydney office, employing more than 500 staff, will occupy the top eight levels of Governor Macquarie Tower.
Before the move the firm completed an overhaul of the existing premises to create work stations with a variety of different functions.
"While all staff will have a dedicated work point, many, including all legal staff, will work from laptops and move to the location that best meets the needs of the task at hand," Minters' innovation and networks leader Andrew Cunningham said.
"We strongly believe that a more agile workforce is a more productive and outcome-focused one. It might be a special-purpose acoustic chair for private, creative thinking. It might be one of our internal verandas for teamwork or a quiet room for extra concentration or videoconferencing."
The offices are also designed to encourage movement, with 80 per cent of work stations having sit-to-stand settings and a central staircase linking all levels.
"As well as encouraging collaboration, there are obvious health benefits from incidental movement and simply empowering people to have better control of their working environment," Mr Cunningham said.
The office also includes a central area known as 'the Plaza', a communal space where people can work either privately or in groups.
"It has booths, quiet rooms, multifunctional rooms, meeting tables and also offers a concierge desk and a cafe for staff and clients," Mr Cunningham said.
The firm indicated similar design principles would be implemented in its other offices interstate.