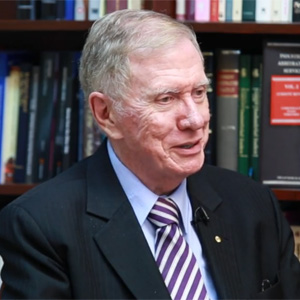 Former High Court Justice Michael Kirby has been granted an honorary doctorate for his contribution to the law and the wider community.
Dr Kirby received the honorary degree of Doctor of Laws honoris causa at a ceremony at Monash University's Clayton campus in Melbourne.
The distinction recognises Dr Kirby's service to the Australian community, and his commitment to upholding international human rights law, health and civil society matters.
Prior to his retirement from the High Court in 2009, Dr Kirby was Australia's longest serving judge. He was also the inaugural chairman of the Australian Law Reform Commission (ALRC) and has served with numerous Commonwealth, international and UN organisations.
In 2013, Dr Kirby was appointed by the UN to lead a landmark commission of inquiry into human rights abuses in North Korea.
In handing down his report in 2014, Dr Kirby said that human rights violations in North Korea could be compared to the atrocities of Nazi Germany under Adolf Hitler. He also recommended that North Korea's leaders be referred to the International Criminal Court for trial.
Monash chancellor Dr Alan Finkel said Dr Kirby's distinguished and influential career made him a worthy recipient of the university's highest honour.
"Few Australians have contributed as much across as many endeavours in public service and civil society on state, national and international fronts," Dr Finkel said.
Dr Kirby currently serves as the patron of the Castan Centre for Human Rights Law at Monash, named after Ron Castan, counsel for Eddie Mabo in the landmark native title case. In 2010, the university established the Michael Kirby Centre for Public Health and Human Rights in recognition of Dr Kirby's judicial and extra-judicial contributions to cross-disciplinary research and discovery at the intersections of law, human rights, health and bioethics.
Born in Sydney, Dr Kirby graduated with a Bachelor of Arts, Bachelor of Economics and Master of Laws with First Class Honours from the University of Sydney in the 1960s.
He practised as a solicitor and barrister before being appointed deputy president of the Australian Conciliation and Arbitration Commission in 1975 and concurrently the inaugural chairman of the ALRC.
Dr Kirby later became a judge of the Federal Court, president of the NSW Court of Appeal, president of the Court of Appeal of Solomon Islands and Justice of the High Court.