Client engagement a drawcard for corporate counsel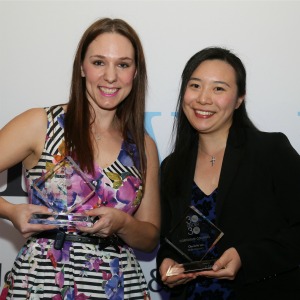 Australia's best young in-house lawyers have pointed to extensive client interactions as the highlight of their roles.
Charlotte Lau from Telstra (pictured right) was one of three winners of the Lawyers Weekly 30 under 30 – corporate counsel category.
Ms Lau believes in-house roles allow for greater engagement with a client's business.
"I started in marketing law and found there was a lot more interaction with clients in the corporate role," she said.
Ms Lau lead the implementation of the marketing helpdesk at Telstra, a central hub for marketing law assistance and training.
"The formal training and informal mentoring I provide supports Telstra Legal's success by equipping both lawyers and commercial clients with the knowledge they need to ensure our products and marketing are legally compliant," Ms Lau said.
As well as operating the helpdesk, Ms Lau facilitates a weekly meeting about marketing law developments, maintains an online knowledge resource and acts as an extra legal reviewer on strategic projects.
Ms Lau is also passionate about teaching, using her TESOL certification to offer free English classes to new migrants and mentoring students through the University of Melbourne.
Fellow winner, Alison Eveleigh, works in media with her role at Nova Entertainment.
She believes lawyers need to understand their client's key business and deliver their advice in an accessible way.
"Clients often do not need or want the exact wording of a piece of legislation, and do not have time to read a lengthy advice. Instead, clients want their lawyers to understand the nature of their business and their risk profile, and provide succinct, practical legal advice that directly addresses the problem," she said.
One initative she spearheaded at Nova was a competitions and campaigns clinic, with colleagues able to book appointments to discuss potential legal matters in a personal, timely way.
"My clinics are always fully booked, and I have found that my colleagues appreciate knowing that I will always be available to assist them at these times," she said.
The final winner Clara Edwards (pictured left), from the Australia Council for the Arts, was lured to her role by the promise of working with artists.
"It's a passion of mine to work in the arts, and especially with artists and...arts administrators," she said.
So far in her career, Ms Edwards has provided advice on ethical issues arising out of funding applications and dealt with intellectual property, IT and media contractual obligation issues.