Gen Y shakes up insurance sector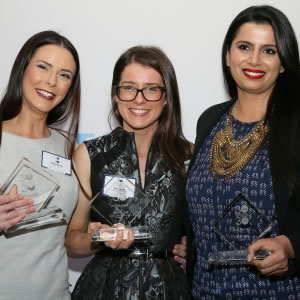 Young lawyers are bringing a new perspective to the practice of insurance law, a winner of the Lawyers Weekly 30 under 30 believes.
Melissa Zen (pictured centre), who was a senior associate at Sparke Helmore before moving to Hall & Wilcox, believes young lawyers are challenging the way insurance law has traditionally been practised.
"I think that by bringing my Gen Y way of thinking to the industry, I bring a fresh approach and question things perhaps more than other lawyers who accept things as they are on the premise that they have always been a certain way," Ms Zen said.
She believes soft skills are vital for insurance lawyers, whose clients are often experiencing loss or personal upheaval.
"In being passionate and empathetic towards people who find themselves in less than desirable circumstances, I believe I am contributing to changing the way in which people view insurance and the legal profession as a whole."
Nonetheless, Ms Zen acknowledged that many graduate lawyers have a skewed perception of insurance law as "limited to making claims for stolen car radios".
"[Previously] I had no idea how ingrained into life that insurance really was, or its importance to individuals, families and businesses," she said.
In her seven years at Sparkes, Ms Zen has distinguished herself as a lawyer, according to former Sparkes partner Daniel Stoddart, who is also now at Hall & Wilcox. He points to two cases involving Ms Zen that set precedents on novel points of law.
"Not only is she making law, she is obtaining excellent results for her clients," Mr Stoddart said.
Ms Zen is also one of the youngest lawyers, and the only lawyer from Sparkes, to obtain accreditation as a personal injury specialist, according to Mr Stoddart.
Other winners in the insurance category were Emily Archer of Minter Ellison (pictured left) and Tejas Thete from Gadens (pictured right).
Ms Archer specialises in asbestos litigation, which she believes requires a nuanced.
"Within an insurance company, the asbestos portfolio is closely monitored and highly sensitive," she said.
"Further, in light of the sensitive nature of asbestos litigation involving plaintiffs with extremely limited life expectancies, a major aspect of my role is to balance the needs of the plaintiff and their families to achieve a fast resolution of proceedings, while thoroughly advising and protecting our client's rights."
Meanwhile, Ms Thete has been effectively running a litigation practice under the oversight of a senior partner.
A career highlight included being involved in the Royal Commission into Institutional Responses to Child Sexual Abuse, where she collated and reviewed documents, prepared witness statements and liaised with the Royal Commission and media.