Pro bono becomes full-time vocation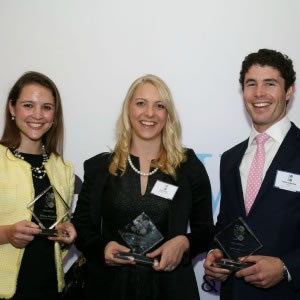 A winner of the 30 Under 30 pro bono category turned a passion for volunteering into her career.
 At just 29, Kara Cook (pictured centre) is the principal solicitor of the Women's Legal Service, a Brisbane organisation that provides free legal advice to women on family law or domestic violence matters.
Ms Cook previously spent five years as a volunteer for the service while working in private practice.
In 2012, she took the plunge and joined the organisation as a full-time lawyer, being promoted to principal solicitor in 2013.
"Access to justice has always been a passion of mine and for me, the work I do…is incredibly rewarding," Ms Cook said.
According to Women's Legal Service coordinator Rosslyn Monro, Ms Cook has been instrumental in expanding the volunteer program, putting unpaid lawyers and paralegals to use in a wider variety of roles.
"The volunteer program at WLS provides one-third of the services received by women at WLS and equates to $711,000 in pro bono assistance," Ms Monro said. The expansion of the volunteer program has enabled WLS to direct scarce public funds to our most vulnerable clients.
Ms Cook is also actively involved in the legal community, sitting on the Queensland Law Society Council, the board of the Queensland Law Foundation and fundraising for the Melanoma Institute of Australia.
However, lawyers at major firms can also have a significant impact on the pro bono sector, as proved by the other 30 Under 30 category winners, Philippa Macaskill from King & Wood Mallesons (pictured left) and James Johnston from Ashurst (pictured right).
Ms Macaskill is a solicitor in the dispute resolution team, but is also actively responsible for coordinating several pro bono initiatives, dedicating 400 hours to it in the past 12 months.
She is an accredited international criminal investigator and has participated in actions by the International Crimes Evidence Project. She is also acting for three Nauru detainees who have lodged complaints to the Australian Human Rights Commission, is the national co-ordinator for the National Children's & Youth Law Centre and manages KWM's child protection work.
Meanwhile, Mr Johnston juggles his role in Ashurst's employment, workplace relations and safety practice with his work at the Queensland Public Interest Clearing House (QPILCH).
Within QPILCH, he has worked with the LegalPod program, helping disadvantaged adolescents transitioning out of state care, as well as the Homeless Persons Legal Clinic and the Self-Represented Litigants' Service.