The senior legal counsel: Sydney on the radar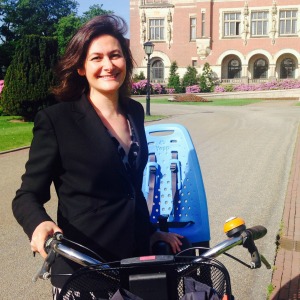 A senior legal counsel at the Permanent Court of Arbitration in The Hague reveals Sydney's growing place on the arbitration map.
Judith Levine talks to Alice Ramsay about her work and how to land a job in international law.
What are you working on at the Permanent Court of Arbitration (PCA)?
My main project is serving as Registrar in the arbitration brought by the Philippines against China involving the South China Sea under the UN Convention on the Law of the Sea. Next month I will speak in London on environmental disputes and I've just finalised a book chapter on challenges to arbitrators. I'm also putting together a conference panel on outer space disputes, which will be held in Vienna later this year.
Is working on a broad range of matters one of the best aspects of your role? 
Yes, that's the thing I love about this job. From climate change and contract disputes to matters between NGOs and international organisations and multibillion-dollar disputes. There's often a political edge to our cases and the governing law can be different from one case to another. 
When you were Registrar on the Abyei Arbitration, you described an award made in nine months as "previously unimaginable". Have you been part of any other achievements since then?
When I started at the PCA there were 17 pending cases, compared with 128 cases administered last year. The organisation, its staff and its usage by states and other parties have continued to grow at a greater rate than I imagined back then.
One of the unique aspects of the Abyei case was its complete transparency – all pleadings went online and there was live video webcast. The past five years have definitely seen a trend towards parties consenting to making more information about their cases public, for example when I first worked on the massive Yukos v. Russia arbitrations they were entirely confidential, but last year the parties agreed to publish the awards.
As for the fast-tracked nature of Abyei, the PCA pulled off a very swift review panel proceeding in under six weeks, in four languages, in a case involving fish in the South Pacific.
You've lived and worked in Mauritius since we last spoke. What were you working on there? 
I spent a year as the PCA representative in Mauritius where, in addition to my casework, my job was to promote PCA services in the African region and Mauritius as a venue for international arbitration. 
I helped with capacity building, ranging from teaching at the university and establishing an internship program, editing a book of conference papers, organising seminars for the local profession, advising the Prime Minister's Taskforce on Arbitration and organising a major training workshop for more than 40 senior African judges. It was exciting to collaborate with a government that was passionate and committed to establishing an ideal arbitral seat.
Any other major developments since 2010?
On the "home front" our brood has tripled, along with the noise level in our house!
On the other "home front", international arbitration in Australia has been growing. Australia is improving as a place for arbitration, the courts have issued robust decisions, there's increased interest at the local Bar and in major law firms, in university course offerings and some of our top retired judges have become prominent arbitrators.
There's also a growing number of amazing Australian arbitration professionals abroad, and if they ever head home it will be a formidable community; and if they don't, they continue to be excellent ambassadors for our legal profession.
I'm a board member of ACICA [Australian Centre for International Commercial Arbitration] and I'm really excited to be on the host committee for the 2018 International Council for Commercial Arbitration Congress that will take place in Sydney – a major event that will really help to put Sydney on the arbitration map.
Can you offer any insights for experienced lawyers working in Australia who are looking to work internationally – either in international arbitration or other fields? 
There are ways to build up knowledge and contacts in international law from home, like through the International Law Association Australia Branch and attending arbitration conferences. If you don't have any experience or qualifications in the field, it is worth considering doing a masters, or at least a shorter professional training program like through the Chartered Institute.
Even transitioning between international fields, it's never too late to retrain. My husband did that recently and completed a masters in environmental law from Sydney Uni while living in The Hague and Mauritius, having three kids and prosecuting Yugoslav war criminals. He's now about to start a job with Greenpeace International.
What matters is a strong analytical mind, excellent drafting, organisational skills, sound judgement, an open mind and respect for others. A solid track record at a firm or in government helps build these. Often landing an international law job is about being in the right place at the right time, and therefore maintaining a good network of contacts is important to become aware of opportunities.
It's 2020. We're catching up. Where are we and what are you working on?
We're having lunch by the water in Sydney and I'm just back from a fabulous party in New York City for my 20-year NYU reunion. I'm telling you about the cases I'm working on as an arbitrator, the teaching, counsel and consulting work I'm doing on the side, the PhD I started and finished, and the delicious meal my 11, 9 and 7 year old sons are going to cook for dinner after playing outside and doing their homework. Or we'll be here in the Peace Palace, conducting this interview in Dutch and celebrating the PCA's 500th case – an outer-space dispute! 
Alice Ramsay is an Australian writer and lawyer based in The Hague. This is the third article in a series of profiles of Australian lawyers working at The Hague.