DLA picks up corporate practice in Perth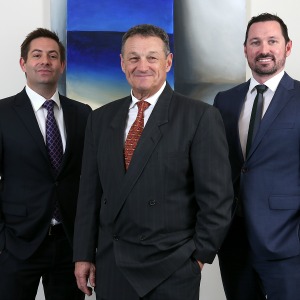 Twelve lawyers, including three partners, from corporate boutique firm Hardy Bowen have joined DLA Piper in Perth.
Hardy Bowen partners Michael Bowen (pictured centre), Scott Gibson (left) and Marc Wilshaw, along with their team of nine corporate lawyers and five support staff, will officially start with DLA on 1 July.
Name partner Michael Hardy will not move across, taking an indefinite break from legal practice.
Mr Hardy and Mr Bowen founded the boutique practice after leaving the Clayton Utz partnership in 2002.
Mr Bowen told Lawyers Weekly that disbanding the firm he founded 13 years ago was a difficult but necessary decision, with more of his clients demanding services beyond the capabilities of a boutique.
"It was apparent we could no longer service certain clients, particularly those with overseas mining assets, without some level of affiliation or hook-ups [with other firms]," he said.
Most of Hardy Bowen's clients are ASX-listed mining companies that have assets overseas.
Bryan Pointon, DLA's head of corporate for Asia Pacific, said the Hardy Bowen team would now, as part of a global outfit, be able to provide services it had previously outsourced to third parties.
"Hardy Bowen clients will continue to be serviced as before, but also be given the option of a full-service global firm," Mr Pointon said.
In addition to the beefing-up of its corporate practice in Perth, DLA has made several strategic moves in the resources space globally.
The firm hired three partners with resources expertise to its corporate practice in Singapore earlier this year. John Viverito and Myles Hankin joined from Gibson Dunn & Crutcher, while Joseph Bauerschmidt was previously at Jones Day.
DLA also recently merged with firms in Canada and Mexico that have strong practice groups in the energy, mining and finance sectors.
What slump?
Over the past 13 years, Hardy Bowen has concentrated on small- to mid-cap clients in Perth. Targeting this segment of the market has protected the firm's bottom line through the resources downturn, according to Mr Pointon.
"The firm is growing while others are shrinking; its clients are in a space where if there is a downturn in the broader market, there are greater consolidation and other opportunities they can take advantage of," he said.
Even so, Mr Pointon said DLA plans to expand the corporate practice to include large-cap clients. He is confident that fluctuations in resources activity will not negatively impact the Perth practice.
Mr Bowen said the effects of the resources downturn are now behind Perth's legal services sector.
"If you're still around with a busy corporate practice, whatever impact an adverse movement in the resources sector was going to have on you would have happened by now."