The 25 most-cited cases in Australian history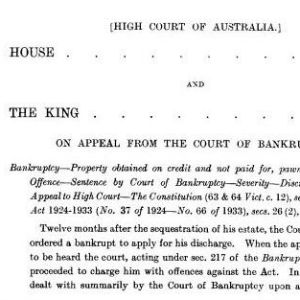 The top case in Australia by citations has 50 per cent more mentions than its closest competitor, according to a new study.
Online case law tool FirstPoint has identified House v The King (1936) 55 CLR 499 as the case with the most citations. This case had drawn a total of 1,200 significant mentions in judgments as of June this year.
House v King is famous for establishing under what circumstances an appeal should be considered.
The ruling stated that a result should be reviewed by an appellate court if a judge acts upon a wrong principle, allows extraneous or irrelevant matters to guide or affect them, mistakes the facts or does not take into account some material consideration.
Additionally, if the original judgement is "unreasonable or plainly unjust" the appellate court may infer a failure to exercise discretion.
The case that came in second place was Project Blue Sky Inc v Australian Broadcasting Authority (1998) 194 CLR 355, which has lasting significance as it set parameters for declaring legislation invalid.
In third place was M v The Queen (1994) 181 CLR 487, which holds firm in legal memory for establishing grounds for setting aside the verdict of a jury.
High Court decisions dominate the top 10 most-cited cases. Colgate-Palmolive Co v Cussons Pty Ltd (1993) 46 FCR 225 is the most-cited Federal Court decision and R v Thomson (2000) 49 NSWLR 383 is the most-cited state or territory court decision on the list.
The most cited decision outside the High Court or Privy Council is Goode v Goode (2006) 206 FLR 212, a decision of Full Court of the Family Court.  
A number of recent cases also made the list, including Aon Risk Services Australia Ltd v Australian National University (2009) 239 CLR 175, which has accrued nearly 550 citations in under six years.
Top 25 Most-Cited Decisions
House v The King (1936) 55 CLR 499


Project Blue Sky Inc v Australian Broadcasting Authority (1998) 194 CLR 355


M v The Queen (1994) 181 CLR 487


General Steel Industries Inc v Commissioner for Railways (1964) 112 CLR 125


Jones v Dunkel (1959) 101 CLR 298


Briginshaw v Briginshaw (1938) 60 CLR 336


Codelfa Construction Pty Ltd v State Rail Authority (NSW) (1982) 149 CLR 337


Minister for Immigration and Ethnic Affairs v Wu Shan Liang (1996) 185 CLR 259


Kioa v West (1985) 159 CLR 550


Singer v Berghouse (1994) 181 CLR 201


BP Refinery (Westernport) Pty Ltd v Shire of Hastings (1977) 180 CLR 266


Craig v South Australia (1995) 184 CLR 163


Pearce v The Queen (1998) 194 CLR 610


Fox v Percy (2003) 214 CLR 118


Aon Risk Services Australia Ltd v Australian National University (2009) 239 CLR 175


Plaintiff S157/2002 v Commonwealth (2003) 211 CLR 476


Minister for Immigration and Multicultural Affairs v Yusuf (2001) 206 CLR 323


Australian Broadcasting Tribunal v Bond (1990) 170 CLR 321


Chan Yee Kin v Minister for Immigration and Ethnic Affairs (1989) 169 CLR 379


Goode v Goode (2006) 206 FLR 212


Minister for Aboriginal Affairs v Peko-Wallsend Ltd (1986) 162 CLR 24


Colgate-Palmolive Co v Cussons Pty Ltd (1993) 46 FCR 225


Wyong Shire Council v Shirt (1980) 146 CLR 40


Port of Melbourne Authority v Anshun Pty Ltd (1981) 147 CLR 589


Ebner v Official Trustee in Bankruptcy (2000) 205 CLR 337