Defamation victory no guarantee of fees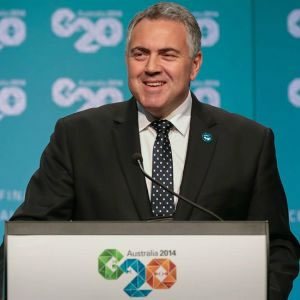 Following the Hockey defamation case costs ruling yesterday, a defamation lawyer says winning damages doesn't necessarily mean escaping substantial fees.
Federal treasurer Joe Hockey was partially successful in his lawsuit against Fairfax media earlier this month, with the Federal Court holding two tweets and an advertising poster stating "Treasurer for sale" were defamatory.
However, the court found yesterday that Mr Hockey was entitled to recover just 15 per cent of his legal fees from Fairfax.
"It is plain that Mr Hockey is not entitled to his costs in full against The Sydney Morning Herald and The Age, as in those proceedings he failed on the matters which were the real core of his claim," Justice White wrote in his judgment.
"Had Mr Hockey sued only on The Sydney Morning Herald poster and the two tweets of The Age, the proceedings would have been much more confined and, possibly, may not have involved a trial at all."
Maddocks litigation partner Norman Lucas did not work on the Hockey case, but said partial costs order were more common in defamation than other practice areas.
"Certainly, outside the defamation context it's probably not a common outcome," Mr Lucas said. "If you win the case and by winning the case you get damages, the general rule is that costs follow the event. Defamation is a little different than more traditional commercial cases."
He suggested the judge in the Hockey case may have been encouraging lawyers to use "discretion in selecting claims".
"Even in defamation, and certainly general commercial litigation, if you plead five or six causes of action and as long as you get up on one or two of them, generally you would probably get costs in your favour," he said.
"Possibly as a way of controlling costs, [a partial costs order] shows a preparedness or willingness on the part of courts to cut and dice and dissect exactly how much success the litigant had."
Mr Lucas also warned that the extremely technical nature of defamation cases could cause costs to balloon.
Mr Hockey was represented by Bruce McClintock SC and firm Johnson Winter Slattery, while Fairfax brought in barrister Sandy Dawson and media law firm Banki Haddock Fiora. Total costs for both parties were estimated at well over $1 million.
"Defamation seems deceptively simple, but when you delve into it it's quite technical and that has major implications in terms of fights about pleadings, fights about particulars and so on," Mr Lucas said.
As a result, he warned defamation matters may be inaccessible to most people.
"Even if it's not going to cost you a million dollars or half a million dollars, for the average person to spend even a proportion – $150,000 or $200,000 – makes it a very expensive case. I suspect it's a little cost-prohibitive."
In addition, he pointed to legislation capping damages as a disincentive for many people to pursue defamation claims.
"You might have had high legal costs, but with uncapped damages there were people getting verdicts of $1 million and more. In a sense, you might be prepared to spend $100,000 to win a million.
"But where you have a cap, it's a disincentive if you have to spend $100,000 or more to win up to that same amount."