Unmet legal need a 'business opportunity'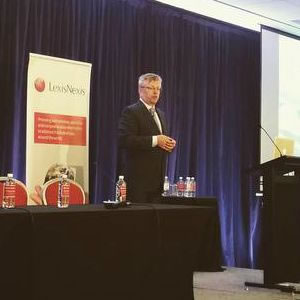 The majority of Australians with a legal problem do not contact a lawyer – while this represents an access to justice crisis, it's also a market opportunity, according to a legal consultant.
Speaking at the Australasian Legal Practice Management (ALPMA) Summit yesterday, Jordan Furlong (pictured) said law firms are only servicing the tip of the legal market 'iceberg'.
Mr Furlong, who is a partner at Edge International and senior consultant at Stem Legal Web Enterprises in Canada, said around 85 per cent of Australians fail to contact a lawyer when experiencing a legal issue.
According to an Australia-wide survey from the Law Foundation, Legal Need in Australia 2012, 30.6 per cent of people with a legal problem deal with the problem themselves; 18.3 per cent do nothing about it; and 36.6 per cent obtain non-legal help.

Only 14.5 per cent of people actually obtained legal help, indicating that lawyers are failing to tap into a large potential legal market.

"More people with a legal problem did nothing than [compared with those who] contacted a lawyer," said Mr Furlong.

"There is a real social need there and we must address that. I also think this is a business opportunity."

Drawing on the iceberg analogy, Mr Furlong said that law firms are competing within the "visible market" but are not "looking below the water level" to the unrecognised legal problems of individuals, families and small business.

At the root of the access to justice issue is often a lack of financial resources, but sometimes "it's that it doesn't even occur to [people] that a lawyer could help", said Mr Furlong.

"We need to recognise when a particular problem has a legal remedy. Lawyers can help you with more than you realise," he said.

Mr Furlong said new law firms that fully embrace technology will be looking to target this market by offering affordable, easy-to-access services.

However, he added, traditional firms can also find new opportunities if they "change their course" and start thinking about business from the perspective of the client.

Mr Furlong said he regularly suggests that lawyers take a walk in their clients' shoes and then asks them: "'How did it feel to be a client?' Never forget that."

Traditional law firms also need to think about how they can use technology to work more effectively and productively, he added.

"My central message about technology is 'this isn't something to be feared' – it is a tool'."

"Don't fight against the machine, fight with it."
 Like this story? Subscribe to our free newsletter and receive Lawyers Weekly every day straight to your inbox.