Protection order enforcement is a job for the community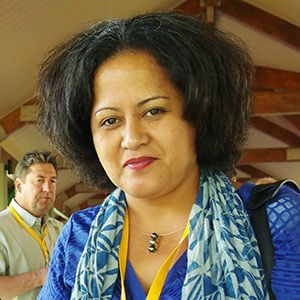 Samoa has only recently introduced protection orders for domestic violence cases, but they have a creative and effective way of enforcing them that Australia doesn't, according to a Samoan lawyer.
The Samoa Law Society president, Mareva Betham-Annandale (pictured), spoke at the South Pacific Lawyers' Association Conference last week about domestic violence and, in particular, protection orders.
Samoa only introduced protection orders two years ago, but the way they enforce them is different to Australia, which has proven to be very effective, according to Ms Betham-Annandale.
"I know Australia has had in place protection orders for a very long time, whereas in Samoa we've only had restraining orders, which is similar to a protection order, but it doesn't include the different members of the extended family affected by the domestic violence altercation," she said.
"So we made protection orders available under the Family Safety Act 2013 for all types of domestic relationships, and I'm sure we're similar in that respect to Australia; but in terms of the implementation, our view is that we have a community that assists greatly in the implementation and the enforcement of the protection orders."
Beyond the usual conditions of a protection order, in Samoa they have a condition that the perpetrator isn't allowed to go to the victim's village and members of the community have the authority to report the perpetrator if they see them there.
"In Samoa, the family and the community are the key players in enforcing and monitoring the enforcement of the protection orders."
She continued: "I am aware of the recent incident which resulted in murder earlier this month in Australia, where there was a protection order in place but, because there's no one out monitoring that protection order, the consequence was fatal for the victim."
Ms Betham-Annandale said that Samoa does struggle, however, to get lawyers on board to provide their services to family and domestic violence cases.
"The reality is, a law firm is a business, and often domestic violence cases or family cases are not really the type of cases that many lawyers take up."
She added: "We do have in our family court a list of certain lawyers who provide services, often on pro bono basis, and legal services to the family, the victims and the perpetrators, so the challenge is to invite the broader Law Society members to take up pro bono cases, especially in relation to family matters and domestic violence."
Like this story? Subscribe to our free newsletter and receive Lawyers Weekly every day straight to your inbox.