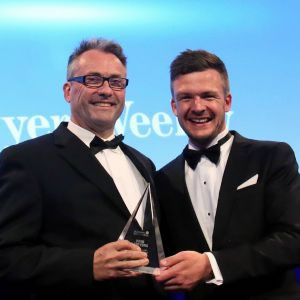 Standout firms have been recognised for their pro bono work, employee programs, innovation and more, in a range of corporate categories at the Australian Law Awards.
Corrs Chambers Westgarth took home the Innovator of the Year award for its two-way communication tool in the form of an app called Crisis Covered, which lets clients seek and receive legal advice quickly.
Developed in late 2014, Crisis Covered enables clients to seek and receive expert legal advice, capture important data and evidence and have all communications recorded in one place that is accessible anywhere, any time.
"The Crisis Covered app is another excellent example of the innovative use of technology legal services," one judge said.
Maurice Blackburn Lawyers was awarded the Employee Program of the Year award for its 'Supporting the Wellbeing of our Staff' program, designed to protect employees at risk of vicarious trauma.
Vicarious trauma is a psychological condition that results from empathic engagement with clients who themselves have suffered trauma. Due to the nature of Maurice Blackburn Lawyers' specialisation in injury law, employees are at a heightened risk.
One judge described the vicarious trauma program as an "innovative approach in recognising trauma".
Salvos Legal & Salvos Legal Humanitarian was awarded the Pro Bono Program of the Year award – not for a certain program they run, but for their entirely pro bono-based operation.
"The whole firm is based around the concept of pro bono and has developed not only an absolute philosophy around pro bono, but looks at the whole person [client] and links to other services [the non-legal issues]," one judge said.
Salvos Legal was established in late 2010 and all of the firm's fees (net of expenses) are used to fund the operations of Salvos Legal Humanitarian, which is a full-service, free law firm that advises on more than 200 pro bono cases a week for the disadvantaged and marginalised.
RMB Lawyers was awarded Regional Law Firm of the Year, a brand-new category designed to recognise outstanding performances by law firms operating in regional or remote Australia.
RMB Lawyers celebrated its 130th birthday in February and now has eight offices throughout regional NSW.
One judge said: "RMB Lawyers has demonstrated itself to be innovative and expansionary whilst at the same time maintaining a focus on caring for its staff, the community and the environment. Its holistic approach to its professional performance makes it a leader in its field."
The full list of Australian Law Awards winners can be found here.
Like this story? Subscribe to our free newsletter and receive Lawyers Weekly every day straight to your inbox.