Slater and Gordon rallies as $56 billion wiped off share market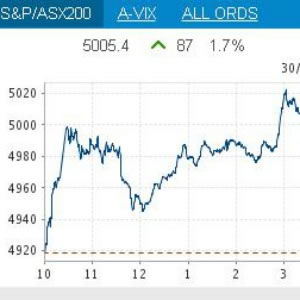 As a shockwave hit the Australian stock market on Tuesday, listed law firm Slater and Gordon was one of only a few companies to make gains.
Slater and Gordon's share price rose 17.5 per cent this week, while global stocks fell to their lowest in two years.
The Australian share market lost $56 billion in value following the crash in UK-listed commodities giant Glencore's share price.

The 30 per cent drop in the value of Glencore in London trading on Monday triggered a panic selling of resources and mining stocks around the globe.
The Swiss mining company made back 17 per cent of its losses on Tuesday but shudders were still felt in the Australian resources sector.

By close on Tuesday, the ASX 200 index was down 3.8 per cent, dropping below the benchmark 5,000 to 4,918 for the first time since 2013.

Paladin Energy, Karoon Gas and Origin Energy were the biggest losers: each were down over 10 per cent by close on Tuesday.

Companies that added value on Tuesday included Kathmandu Holdings and UGL.
Markets improved on Wednesday, with S&P/ASX200 soaring above 5,000 points by 3pm.

Slater and Gordon's share price opened at $3.28 and reached a high of $3.29 before dropping back to $2.96 by late afternoon.  
Accounts revised
Slater and Gordon also released its full financial statements on Wednesday with four adjustments.
According to the firm, the changes increased net profit by $1.4 million for 2014-15 and decreased net profit by $9.6 million in 2013-14.
Slater and Gordon said these changes were made in the "ordinary course of completion of the statutory audit process".
At the end of August, the firm released unaudited 2014-15 results that reported a $82 million full year profit.
The firm has attracted scrutiny after it announced it had found errors in the financial accounts of its UK business between 2012 and 2014.
The Financial Conduct Authority, a UK regulator, is investigating Quindell, the company from which Slater and Gordon acquired Professional Services Division (PSD) for $1.2 billion in May.
ASIC is also asking questions about the firm's audit relationship with Pitcher Partners. Slater and Gordon said in the ASX release today that it would continue to cooperate with the regulator in relation to its ongoing review process. 
Like this story? Subscribe to our free newsletter and receive Lawyers Weekly every day straight to your inbox.