Reforming Australian federalism is our next great task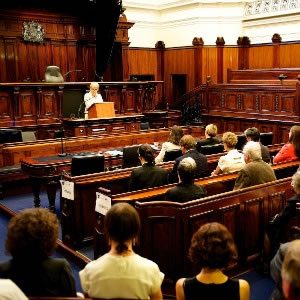 Updating the laws governing the interactions between different levels of government in Australia is a big challenge of our time, according to laureate professor emeritus Cheryl Saunders.
Professor Saunders outlined the framework for reform in her speech for the annual Law Oration on 14 October.
The event was held at the Banco Court, Supreme Court of Victoria and was presented by Victoria Law Foundation and Melbourne Law School.

The division of power and revenue between different levels of government in Australia is orchestrated by an array of complex agreements that are poorly understood within the community, according to Professor Saunders.

The overlap of responsibility naturally creates tensions between federal, state and territory governments – but is also supports innovation.

Reform of intergovernmental processes could help harmonise the relations between federal and state and territory communities, according to Professor Saunders.
"I do not underestimate the difficulties in reforming Australian federalism," she said.
"There are major hurdles in the form of entrenched assumptions, entrenched interests and widespread public ignorance about how these very complex arrangements presently work."
Professor Saunders said disparity in revenue raising capacities between federal and state and territory governments was a major issue.

"The problem of the fiscal imbalance that lies at the heart of so much of the present malaise is less tractable," she said.

She floated the idea of addressing the imbalance by reallocating the authority for revenue raising.
"This has some attraction in terms of constitutional structure and political culture, but it may now be a step too far," she said.
The other option, according to Professor Saunders, was to leave the imbalance in place but "readjust our understanding of what it means" instead.
"This would involve accepting that the Commonwealth raises money on behalf of both spheres of government as a matter of public convenience but that this has no necessary implications for the expenditure of proceeds," she said.

Professor Saunders said there would be a "host of significant decisions" to be made about which projects should be coordinated nationally, including urban infrastructure and school curriculum.
She said she did not "hold out great hopes that the current formal review process will proceed along these lines".
"I would be very happy to be proved wrong, but indications such as they are suggest that its horizons are likely to be significantly more limited. That would be a pity, but it wouldn't be the end of the world."

Like this story? Subscribe to our free newsletter and receive Lawyers Weekly every day straight to your inbox.