Invest work with the warmth and hospitality of home life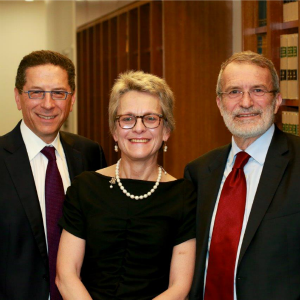 Lawyers should "speak human" at work if they want to create safe, healthy and innovative workplaces, according to the guest speaker at the annual Tristan Jepson Memorial Foundation lecture.
"I speak human, and it is an amazing language if you use it in adult life," said Alex Malley in front of an audience at the Federal Court of Australia last week.
Mr Malley is the CEO of CPA Australia, an accounting firm with 19 offices globally. He recently published The Naked CEO, a book on corporate leadership.
In his spare time he moonlights as an interviewer, most notably conducting the only long-form interview with Neil Armstrong in 2012.
Speaking broadly about his leadership approach, Mr Malley said it overlapped strongly with the Tristan Jepson Memorial Foundation guidelines.

"The guidelines are sensible, they are logical but most importantly they are humanly intuitive," he said. "We will be distributing them across the accounting profession."
However, he maintained that his strategies for building a supportive work culture were largely home-grown.
Instead of cherry-picking ideas from management textbooks, his ideas about how to build a happier and healthier team culture largely spring from the "learnings of a rich childhood".

Mr Malley said he encourages his staff to constantly think about how to personalise the workplace by nurturing individuality and taking a genuine interest in what is going on in each other's personal lives.
"I have no idea why great, imaginative, curious young people turn into well-meaning, boring, stifled adults," he said.

"The chances of a healthy, safe and productive work environment are greatly enhanced by giving people the permission to be themselves," he said.
Mr Malley said his theory of work culture improvement started with what he learned at his friendly, Greek home, where guests are made to feel welcome. 
"So when [people] come [to your house] you feed them and when they are full you feed them a bit more, and then when they are not looking you give them dessert," he joked.
"[We] learned to be personable and hospitable. And you know that's what we did at home. I don't know why we don't do it at work."
Mr Malley challenged his staff to keep those two words in mind – 'personable and hospitable' – and find ways to build them into the business.

"The tone from the top was all about knowing each other's names," he said.
"So when I first got the job I asked for a photograph of every staff member in the organisation globally. I got hundreds and hundreds of photos on the wall and I just started memorising names."
This move was inspired by Mr Malley's former headmaster who would go out on campus and deliver a Freddo frog to children on their birthday.
"That is how he told them that he was there," said Mr Malley.

The healthy culture is characterised by a "feeling going in the business" where personal stories are welcome and people actually stop to ask each other whether they are OK, he continued.
Mr Malley said that although he had never met Tristan Jepson, the foundation's namesake, he felt a "sense of destiny" being invited to speak at the annual lecture.
"Tristan was born in 1978, I was suspended [from school] in 1978," he said.
"We both went to Trinity Grammar School. Tristan lived in a particular street in Strathfield. I lived in the same particular street in Strathfield. Tristan and I both lived with depression; Tristan with his, me with my mother's."

Alex Malley is pictured (left) with Tristan Jepson's parents, Marie and George Jepson, who are board members and co-founders of TJMF.