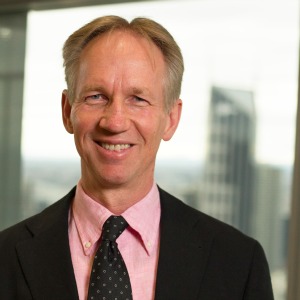 Training the mind to focus on the task at hand can increase productivity while reducing stress, according to the architect behind Herbert Smith Freehills' mindfulness program.
Murray Paterson (pictured), the head of learning and development at HSF, has run over a dozen formal mindfulness programs at the firm over the past year, with "extraordinary" results.
Based on self-reported data, program participants experienced a 45 per cent increase in focus, a 35 per cent decrease in stress and a 35 per cent increase in effectiveness.

"[It is] quite common to see such an improvement," said Mr Paterson. "People say things like, 'This has made the biggest difference in my professional life ever'."
The program introduces the theory and practice of mindfulness from a secular perspective, teaching lawyers the physiological basis as well as practical ways to build their concentration.
Each session runs for between six to ten weeks and involves an hour and a half of training each week and ten minutes of practice each day. But, in order to maintain the benefits, people must continue to practice mindfulness after the program has concluded, according to Mr Paterson.

"It's just like physical exercise," he said. "If you stop going to the gym or stop running [you] go back to square one."

Mr Paterson said mindfulness is particularly useful for corporate lawyers, who work in a "very high pressured and stressful environment".
"They typically work very long hours and their work is very complex," he said. "So it is valuable to them if they can pay attention to what they are doing and not be distracted."
Stress, he continued, comes from lawyers being hassled to do difficult work to tight deadlines. But that feeling of stress often decreases the quality of work.
"It takes you longer to do the work and you feel more stressed by it," he said. "[But] if you can be mindful you feel calmer, you are clearer, you are more focused, you are able to do a better job and you feel better at the end of it."

Lawyers are predisposed to being negative and critical in their thinking, which can leak into their lives and lead to unhappiness, according to Mr Paterson.
"I think that's why lawyers are so attracted to [mindfulness] because it offers hope for them that they can stick with this really busy, demanding job that they really want to do, but they can feel good too.
"Imagine that – if every lawyer you ever met was also really cheerful and enthusiastic and positive and constructive."
What is mindfulness?
Mindfulness, in an office context, is the ability to consciously direct your thoughts to a particular task without getting distracted by background noise, emails or phone calls.

"Mindfulness is a [word] that is very common in the language and what it actually means is you are paying complete attention with complete focus to this particular thing at the this particular time," said Mr Paterson.
"It is very hard to pay complete attention [but without this] we miss things," he continued. "We miss a detail or we miss a thread or if something is complex we don't quite understand the complexity."
How do you get to this point?
Mindful practice is deceptively simple; it starts with closing your eyes and directing your complete attention to your own breath, according to Mr Patterson.

"You typically begin by focusing on your breath and then as you continue to focus on your breath you notice things around you," he said.
"If you're in an office you might start to be distracted by noise or conversation and you go, 'No, I'm just going to focus back on my breath again'. So you are building your attentional focus.
"You go, 'I chose to focus on my own breath'. It's a conscious act of will to focus on your breath. It sounds [easy] but actually if you try it actually you will discover how noisy it is where you work and how much is happening around you and how hard it is to concentrate on something as simple as your breath."
Mr Patterson said just ten minutes every day is enough to produce results.
"You will start to become a calmer," he said. "Your ability to focus will improve so you will be able to make that choice to focus on whatever it is that you are doing and choose not to be distracted by that exciting thing that just popped up."