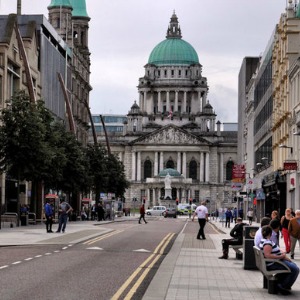 After only one year of operations, Baker & McKenzie has grown its legal services processing centre in Belfast from five staff to more than 160.
In August last year, Baker & McKenzie opened its centralised location for bulk legal services, taking a similar approach to Herbert Smith Freehills in Belfast and Ashurst in Glasgow.
The firm's Belfast operations centre has taken on large-scale legal work that "lends itself to a common approach" across international offices, according to director of legal services in Belfast James Richards.
"We're not selling a new office or a different product. What we're doing is helping our existing practices to service their clients," he said.
In an increasingly competitive market, centralising legal services could be considered the "price of entry" for global firms, suggested Baker & McKenzie business manager David Catterall, who helped establish the facility.
"Our clients want to be assured that we are performing the work for them at the appropriate level. This gives clients and associates more options."
Baker & McKenzie has had a business services facility based in Manila for more than 15 years, but this marks the firm's first foray into centralised legal processing.
Mr Catterall said the reception from Australia had been particularly enthusiastic, where time differences mean partners can make requests in the evening and have the finished product waiting for them in the morning.
"In many respects, it's been an easy sell coming down here. The Australian legal market is a very sophisticated market. The partners at Baker & McKenzie absolutely get why we're doing this," he explained.
Mr Richards suggested the strategy is part of the firm's "growth story", emphasising that the new office has not displaced paralegals or junior lawyers at the firm's international offices.
Rather, he suggested the service was a boon to juniors who were less likely to be tasked with document review or other tedious, bulk work.
"Traditionally, if you were a young lawyer, [some of the work] wasn't that attractive, but there was no one in the office who could do it. Now there is an alternative," he said.
"I think what it's doing for our junior lawyers is giving them the flexibility to deliver service to clients in a better way and I don't think it's impacting directly on numbers in our offices."
The centre also allows offices to scale up resourcing on complex matters and deliver services to clients in a more cost-effective fashion, he added.
The centralised office has also taken on more than 150 international surveys, where clients approach Baker & McKenzie with legal questions to be answered over numerous jurisdictions.
In Mr Richards' view, the centre allows the firm to innovate and deliver services in novel ways that suit clients' budgets and needs.
"There's a real appetite for us to change the way we do things – any smart lawyer can see the way the market is going, and the limitations on the way we've practised historically. This is an agent for change."