Leadership handover at global immigration firm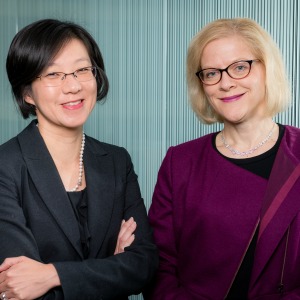 After a decade under the same management, a specialist global firm has appointed new managing partners for Australia.
Fragomen announced its managing partner for Australia and New Zealand, Robert Walsh, would retire from the role on 30 June after a 10-year tenure.
Two current partners have been appointed to replace him in a joint capacity: Alex Paterson, who formerly managed the firm's London operations, and Teresa Liu, who has over 20 years' experience in the Australian market.
Ms Liu told Lawyers Weekly the move seemed like a "natural step" for her and Ms Paterson.
"We'll collaborate to build on Robert's legacy – to provide that highest-quality support and advice across all aspects of immigration law," she said.
The two partners have been working together closely over a number of years, co-managing the firm's Sydney office and co-operating on other initiatives.
Under the new structure, the head office operations in Sydney will continue to fall under their joint purview while Ms Paterson oversees the Perth office, Ms Liu the Brisbane office and a third partner, Chris Spentzaris, looks after Melbourne and New Zealand.
In addition, the two joint managing partners will have strategic overview over the firm's operations in Australia and New Zealand.
Ms Paterson suggested their main focus will be "consolidating and extending our position within the marketplace".
"We are both absolutely committed to aggressively growing the firm within that growth and mobility space," she said.
In particular, she saw the firm's narrow specialisation on immigration law and global mobility as a key strength.
"Businesses more and more are demanding such sophisticated service that to have this single service approach is a benefit," she said.
Ms Liu agreed, suggesting the firm's ability to oversee a migration process from both a legal basis and an implementation perspective was a "large competitive advantage".
A key growth area within immigration law, according to Ms Liu, is likely to be the trend towards shorter overseas placements over long-term assignments.
She also pointed to the impact of economic conditions on immigration regulation, including factors such as labour supply, community sentiment and growth industries.
"That presents us with real opportunities to provide legal advice and support across all those advisory elements," she said.
Upcoming changes that may affect immigration practices within Australia include the upcoming federal election, particularly a proposal by the Liberal party to introduce an entrepreneur visa.
"We're interested to see, as more detail on that entrepreneur visa is disclosed, what that will look like," Ms Paterson said.
"We think it's going to be so important that it is ensuring Australia can compete for that very young and less proven talent in the entrepreneur space."
She also singled out the upcoming referendum in Britain on EU membership as a potential wave-maker within Australia.
According to Ms Paterson, aside from client work, the firm also takes an active role in contributing to legislative debate, including "building and retaining very strong relationships with the immigration authorities".
Nonetheless, she identified a number of challenges to the immigration lawyers in the current market.
"One is the somewhat fluctuating economic times we find ourselves in, not only in Australia and New Zealand but more broadly across the region," she said.
"We've [also] seen a number of governments get a lot more protective in terms of looking after their own workers.
"Those combination of factors mean that it's a more challenging environment in terms of business wanting to move people."
Ms Paterson and Ms Liu will commence in the role from 30 June and Mr Walsh will stay on within the firm.
Fragomen managing partners Australia New Zealand Teresa Liu and Alex Paterson