Law firms lag behind other sectors in opening up to new office paradigm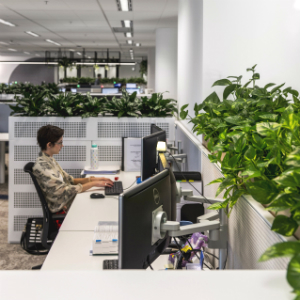 While the writing is on the wall for traditional office spaces in firms of the future, law lags behind other professional services in embracing open layouts, according to a fit-out and refurbishment specialist.
Alex Corones, the general manager of workspace remodelling company SHAPE Australia, has said that while law firms will eventually shed their traditional office walls for mixed workspace layouts, other professions have been less hesitant to change.
"The accounting firms – KMPG, PwC, Deloitte – have moved to open-plan a little earlier. Indeed, PwC is moving into 480 Queen Street as well, and I know that they have a very heavily open-plan-based workspace. I think the law firms may have been a little bit slower to move and I think that has do with the tradition of the law firm," Mr Corones said.
Brisbane lawyers from both Allens and DLA Piper have moved to embrace the open-plan paradigm as they settle into new office spaces in the completed 480 Queen Street high-rise, which also houses PwC. SHAPE recently worked on the mixed layout spaces for both firms in the Queensland building.
While relocation to a new premises is an opportunity for firms to experiment with new layouts, Mr Corones says what drives most firms to re-imagine their use of space boils down to culture. Ensuring the physical space manifests the values of the business is just as important as cutting overhead costs, he added.
"The predominant drivers to these firms assessing whether or not they'll adopt a new or different workspace paradigm is largely culture-driven. So even though the conclusion of a lease or the opportunity to take up a new lease elsewhere may accelerate that decision, primarily they're making their design decisions based on cultural drivers," Mr Corones said.
"Fifteen years ago the Australian and world economy was seeing great growth, [then] we went through the GFC, which made everybody stop and think about what they do and how they do it. There was a much greater focus on 'doing more with less' as a broad term, and that came into the commercial commitments that businesses were making," he explained. 
In the new Queen Street tower, Mr Corones said, DLA Piper have embraced a more open design. Consistent with the national offices of Allens and Herbert Smith Freehills, DLA has opted for a mix of open space and perimeter offices.
But for break-out rooms, he suggested that no one space would have a single function in the law firm of the future, and that the door of traditional office spaces is inching shut.
"We may see predominantly open-plan environments in law firms in the longer term, albeit there will always be a need for those quiet break-out rooms for lawyers to get away from the working floor or to have confidential conversations and so forth," Mr Corones said.
"Perimeter offices for partners, especially for the senior associates, have been a thing to aspire to. It's been a given, almost. What you see now is a number of law firms challenging that traditional paradigm," he said.
Controversy can follow the decision to move walls and tables in an attempt to transform workplace culture. After all, change is uncomfortable. However, Mr Corones believes the shift has already happened. As in the offices of other professional services firms, it is only a matter of time before the silos in legal offices are brought out into the open, he suggested.
"It really goes back to the culture and the cultural outcomes, and indeed the commercial and productive outcomes that the partnerships are trying to drive within those firms themselves," Mr Corones said.
"The change happens on a case-by-case basis, but we have really seen a greater trend in the last five years of law firms moving away from a traditionally office-based environment," he said.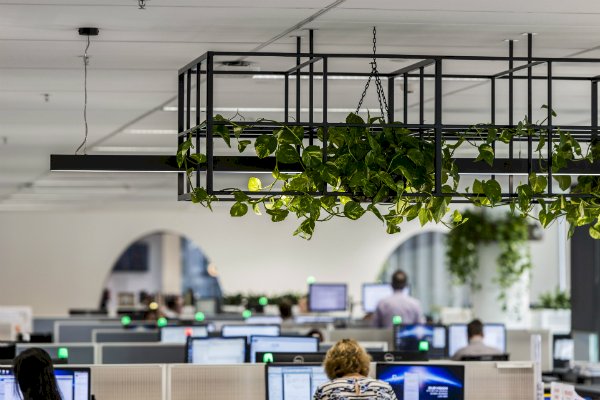 DLA Piper's new Brisbane office layout has made more room for open, shared spaces.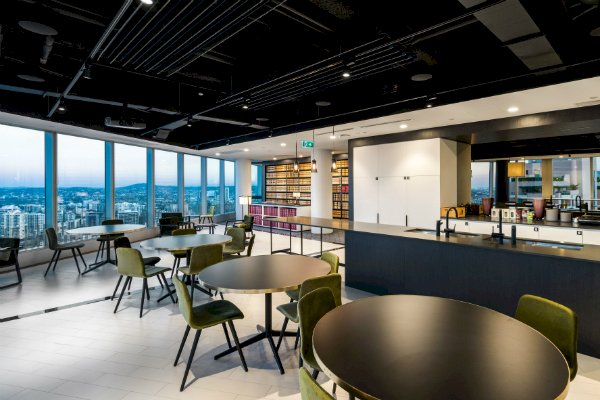 Allens' workspace in the new 480 Queen Street building is part of a nationwide program to open the firm's offices.