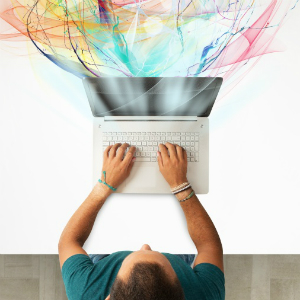 Introducing technological innovation into justice systems around the world has been a slow march, but the internet of things and the growth of mobile technology are driving legal service providers to step up and respond in ways that digital natives expect, according to an expert in online dispute resolution.
Colin Rule is the founder and chairman of Modria, an online dispute resolution provider. His company, based in Silicon Valley, has consulted organisations worldwide, helping to develop virtual in-built platforms to extend services to the online space. In more recent times his multisector clients have included actors in law.
Speaking to Lawyers Weekly, Mr Rule said that unlike the medical and financial sectors, law has been slow to join the digital revolution. Client demand, however, is opening up new possibilities for justice systems and case management worldwide.
"When I first started doing this work about 15 years ago, there was a real reticence about resolving problems online. People felt the technology was kind of dehumanising and that it couldn't handle the complexity that was required to really address these cases," Mr Rule said.
"We rely on technology to do pretty much everything in our lives now. And I think most of the big industries out there have been transformed by technology – whether that's finance or medicine or entertainment. And now I think the question is: 'How is technology going to change the law? What will it look like in the future?'," he said.
With a professional background in public policy, Mr Rule admits he fell into the business of dispute resolution by accident. In 2003 eBay and Paypal brought him on board to develop their online dispute resolution platforms.
As the architect of online solutions for both companies, he led the building of their global online systems to resolve more than 60 million disputes every year. Mr Rule continued to work for the transactional giants for another eight years, before choosing to strike out on his own and found Modria in 2011.
"I never imagined being on the for-profit side of the field. Most dispute resolution happens within government agencies, within not-for-profits.
"When eBay called and asked me to come out and build this system, they saw it as a customer service platform. But I saw it as they were asking me to build a civil justice system for a kind of virtual country," Mr Rule said.
When he started working for the online marketplace, there were 250 million users whose multiple interactions could lead to any number of disputes. Global systems, such as eBay's online platform for resolving buyer-seller disputes, offer a perfect "blueprint" for what the online future of law may look like, according to Mr Rule.  
In his view, the key reasons for justice systems to reimagine themselves as partially virtual platforms include the need for a resolution process free of jurisdictional limits; and to relieve courts of what has become an unmanageable volume of cases.
"I think the courts are encouraging that trend through the development of private resolution processes as the best way to resolve issues – through direct negotiation and mutual agreement, or a private evaluative process like an arbitration process; as opposed to taking them all the way to court, where they generate a lot of costs, frustrations and delays and don't necessarily end up with a resolution that both parties are satisfied with," Mr Rule said.
He noted that innovative systems introduced by justice agencies in Canada, the UK and the Netherlands are leading the charge in online dispute resolution in law. Mr Rule highlighted a new Civil Resolution Tribunal being rolled out in British Columbia as an example of serious institutional commitment to the online mode of legal service delivery. The online Canadian tribunal for claims of $25,000 or less was made immediately available to the public, rather than piloting the program.
"What they have done in British Columbia is design a platform using online dispute resolution to allow parties to resolve the low-dollar-value cases without retaining legal counsel. Parties can self-navigate the process and get an outcome that is just as binding as if they had gone through the face-to-face court-based process," Mr Rule said.
"The reason why it's such a forward-looking experiment is because they're not creating this as a pilot program. They're actually creating this and making it mandatory," he said.
Justice systems around the world are gradually interfacing with online platforms to resolve disputes, not due to a collective willingness to transform, but rather because users expect it, Mr Rule said.
"When people see the kind of high-powered, well-designed, intuitive platforms being adopted [by the courts], they immediately get it because they're using Facebook, Gmail and all those other services. And that is an extension of those types of capabilities into dispute resolution.
"It just feels like a really natural and intuitive way to solve problems that people couldn't imagine 10 to 15 years ago," he said.
While the law has been one of the final sectors to adapt to the internet of things, the shift is happening. Mr Rule reiterated that although this means the traditional role of a lawyer will necessarily morph, the need for the profession is not under threat.
"What I often say is, 'If you can understand, educate yourself about these changes, and then invest in your practice and in your skills to get ahead of them, this is an enormous opportunity'.
"We need lawyers to play the role of mediators and arbitrators and legal reviewers. Parties do need to get their questions answered. But the model for legal service delivery through those platforms is a little bit different than the billable hour," he said.
Mr Rule visited Australia last week to present examples of how law has made use of online dispute resolution to Victoria University's Sir Zelman Cowen Centre. He will make a remote presentation from the US in November to a conference in Melbourne about law and the courts in an online world.