Adverse forces beyond competition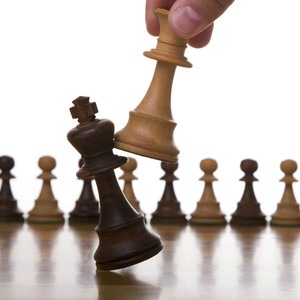 There are four forces much greater than competition affecting the ability for law firms to succeed, according to Dr George Beaton.
Speaking at the ALPMA Summit recently, Dr George Beaton said firms must understand how strong the forces are around them that are beyond anybody's capacity to control.
"They're only there to be understood, anticipated and position yourself to take advantage of them and shield yourself from the adversity," Dr Beaton said.
"We say these forces are adverse in your profession, it's only a question of how adverse."
While he acknowledged that competition between firms is an adverse force in itself, he highlighted four other that are pressing in from all directions which should be of more concern.
"You're the competitive rivals in the middle; you are competing with each other for clientele, for staff, between firms," he said. "The greater forces than competition are those around the industry."
The first adverse force is the supply of talent, according to Dr Beaton.
"There's ample supply of talent but does it want to work in your firm, for your firm, stay with your firm?" he posed.
"More solicitors are seeking alternative ways of working. Work/life balance is nothing new, but what is new is the ways of exercising your right to work/life balance. Enormously diverse ways now, which more and more people are discovering."
Second are the clients and their increasing buying power.
"If we look at what clients are doing, well clients are basically exercising their buying power. We know there's a shift to a buyer's market, there is no question, it's now a question of client sovereignty," he said.
"It's [about] understanding which clients we are best equipped to serve that's really important here. Talking about clients as a big homogenous mass is quite false; we need to think about those particular clients that are best suited for us to serve."
Third are new entrants to the market.
"These are folks setting up firms or entering your market by opening a branch office who are playing by the same rules. They are law firms like you, they have the same partnership structures, they believe mostly in the same values and behave in very much the same way and they're just adding more of the same," he said.
"More and more new entrants are coming by breaking away, and the breakaways are occurring because those individuals who leave their firm and go to set up on their own are tired of waiting for change, tired of agitating and getting nowhere, and so they leave and do it themselves."
And last, of course, are NewLaw substitutes.
"Coming up from below, however, are the other folks who don't play by the same rules. NewLaw substitutes are re-defining the rules of competition, not playing by your rules, operating all over the world within even much more restrictive jurisdictions than Australia quite freely," he said.
"It might be worthwhile thinking about why are they knocking on your gates? Why are investors pouring hundreds of millions of dollars in to these new forms of legal service providers?"
Overall Dr Beaton's message was that now is the time for law firms to change.
"The old order has now passed its maturity, its ripe, its overdone and, without being pejorative, it's time to change because these forces will only get more adverse if you sit in their way," he said.
"You will be compressed and make less money, be less able to invest, be working harder to try and keep the water out of the boat and that's no way to reinvent yourself. The time is now."