Change in law a matter of the heart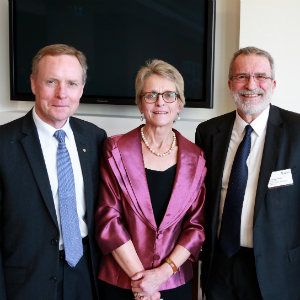 Championing iconic traits such as stoicism and self-derived resilience may be eroding the richness of Australian workplaces, as well as their bottom lines, David Morrison has said.
A direct appeal to leaders of Australia's legal profession has been made by former Lieutenant-General David Morrison AO (pictured). Speaking at the 2016 Tristan Jepson Memorial Foundation talk last month, the retired Chief of Army stressed the need to address the culture in law that celebrates "seemingly inexhaustible wells of self-resilience" at work.
Mr Morrison warned that the costs of championing traits considered quintessentially Australian can be lost talent, hampered workplace productivity and lives taken too soon.
Evoking the celebrated national stereotypes of the "stoic pioneer, the dashing but humble sportsman and the laconic Digger", Mr Morrison asked the audience how anyone who feels anything less can be expected to cope.
"When that is your foundation, is it any surprise that professional edifices can be so daunting for someone who isn't feeling resolute and resilient, for whom silence is simply a fear of being seen as weak?
"What happens then is that culture becomes the wall, created by others, that keeps emotions private and allows, in some, for that deep inner turmoil to take over every waking moment," Mr Morrison said.
He told a packed audience at the Ceremonial Court of the Federal Court in Sydney that the "mental anguish" many lawyers suffer must be addressed by leadership driven by the "head and heart".
Mr Morrison referred to the myth of what it takes to be a good lawyer: "insular stories" that he said have a powerful resonance with the ranks of the legal fraternity.
"Hours billed, hours worked, cases won, seniority gained, reputations for toughness and resilience forged, the commitment to the firm before self," he said.
Acknowledging that those who are just embarking on their legal careers are especially vulnerable to the pressure to go above and beyond, Mr Morrison said the responsibility falls to leaders to ensure junior staff, in particular, do not become isolated.
"If we, leaders in the workplace, offer clear policies and procedures and clearly communicate to our employees that they are not alone, that disclosing their circumstances will not result in adverse consequences at work, then we are taking positive steps to address the issue, ensuring that we are not bystanders when such things do happen," Mr Morrison said.
"Workplace depression, and the mental anguish that is its consequence, has been established as one of this nation's great social issues. As leaders we can make a difference, hear the previously unheard voices and see the previously unseen desperation," he said.
Shifting the culture in law cannot be any harder than some of the inroads Mr Morrison attempted to make during the time he led the Australian Army, from 2011 to 2015. Recalling his own efforts to reform military culture and its attitudes to mental health and diversity, he suggested one of the core responsibilities of leader is to the future of their organisation.
Mr Morrison went on to recognise that efforts to reshape culture may be slow; however he reiterated that it remained important to continue questioning the extent to which it is appropriate for "everyday work pressures to intrude on [the lives]" of lawyers.
"What are solicitors and barristers, especially those starting their legal careers, being asked to do?
"Unquestionably, there are some who find these pressures unbearable. And so they leave, and their potential is lost to you, or they find even more drastic and awful solutions to their life issues and they are lost to us all," Mr Morrison said.
He told the audience that the only way forward is for senior members of the profession to lead the charge with compassion and empathy. The leaders of law must change the "stories we tell ourselves" about what is acceptable and expected, he said.
"If the stories we tell about our profession, about our institutions, about ourselves as Australians, give special emphasis to a particular attribute, inevitably that comes to be seen as a laudable trait and something to aspire to if you want to belong to the status quo," Mr Morrison said.
"Almost by stealth, these stories can take on the role of delineating who is in and who is out."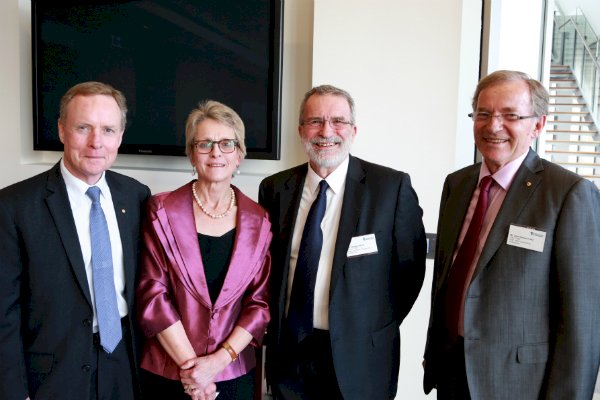 L-R: David Morrison AO, Marie and George Jepson, and Alan Cameron AO