Firms using social media, but not enough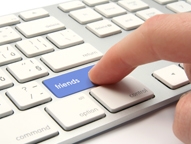 While many law firms have registered a presence on social networks, the legal profession overall has a reticent approach to social media engagement.
A recent report by LexisNexis and Martindale-Hubbell on law firm engagement in social media, Global social media check-up: A global audit of law firm engagement in social media methods, has revealed that while LinkedIn is the network with the highest penetration amongst legal professionals (77 per cent), a significant proportion of firms have only registered a company page, rather than using the network to engage with other users and for client development, recruitment or reputation management opportunities.
"Registering a profile is a step in the right direction, but not doing anything with it is like renting a shop on the high street and never opening the doors," said the director of international operations at Martindale-Hubbell, Derek Benton.
"Moving from registration to broadcast and on to conversation are the steps of social media engagement. And law, just like any other sector can, will engage for the benefit of business development. The most evolved social media strategy is one that provides an open line of communication between parties, but that unfortunately is a long way off for the majority of law firms today."
The survey of 110 law firms around the world also revealed that North America is leading the way among law firms for social media engagement, with the highest registration of social media profiles and overall engagement.
Although the Middle East and Asia Pacific showed "very low" social media usage, Sydney was the exception. According to the report, Sydney firms appeared on both LinkedIn and Twitter, as well as being open to using Facebook, blogging and integrating their social media platforms into their websites.