Young guns' national recognition bolsters career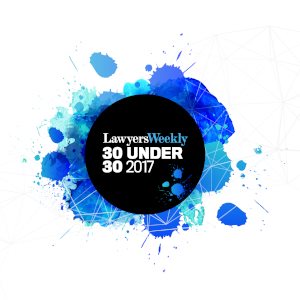 Three of the profession's up-and-comers have revealed how winning an award at last year's 30 Under 30 has impacted their careers.
In the lead-up to the 30 Under 30 awards, Lawyers Weekly spoke to Maurice Blackburn's Matthew Littlejohn, Herbert Smith Freehills' Katie O'Driscoll and DibbsBarker's Nell van Weerdenburg on what winning an award at last year's event meant for them and why they would encourage others to put forward a submission.
Mr Littlejohn, who took out an award in the Insurance category, alongside Clyde & Co's Dan Robinson and HWL Ebsworth Lawyers' Matt Thickett, said being recognised at such a young age was great reinforcement.
"Winning the award in 2016 mostly meant a lot of [good-natured] teasing from friends and colleagues! But at the same time, it meant national recognition for a lot of hard work and determination, as well as acknowledging the successes and wins that tend to get lost in the day-to-day practice of law," Mr Littlejohn said.
"After 12 months of building a new team, office and jurisdiction's practice for Maurice Blackburn, it was a great way to round out that achievement."
Ms O'Driscoll, who picked up an award in the Dispute Resolution category, alongside DLA Piper's Allan Flick and Harmers Workplace Lawyers' Amy Zhang, said the honour meant a lot to her both professionally and personally.
"It was a real turning point in my career, and was widely acknowledged by my firm following the event," Ms O'Driscoll said.
"The award also gave me the confidence to continue with my passion of co-ordinating pro bono work in the Perth office and being actively involved in other community initiatives."
Meanwhile, Ms van Weerdenburg, who scooped up in the Construction and Real Estate category, alongside MinterEllison's Adam Merlehan and DLA Piper's Jane Xu, said winning an award was "a wonderful surprise which instilled a great amount of confidence in me".
"As a young lawyer, I felt privileged to receive recognition of that type. It allowed me to reflect on my time to date working in the legal profession while bolstering my excitement for what is to come," she added.
Commenting on how they've used their awards to enhance their status within the Australian legal profession, Mr Littlejohn said, "Receiving the 30 under 30 Award was a great boost to my career, especially in a small jurisdiction like Darwin."
"It highlighted that our new office was a strong entrant to the market, and it opened doors for me to present at NT Law Society CPD seminars as well as to other external organisations. It gave my profile a significant increase, which in turn led to greater success for me and my team in Darwin," he said.
Meanwhile, Ms O'Driscoll said, "I have received greater recognition from partners in other sectors, and from people outside the firm (such as counsel)".
"The award has also allowed me to be more of a mentor to junior solicitors in disputes, and encourage them to be actively involved in more than just their billable work," she said.
In addition, Ms van Weerdenburg said, "After I received the award, I felt that my profile within the legal profession had been given a boost".
"I was humbled to hear from clients who had seen the results of the 30 Under 30 awards and took the time to get in touch with me. It has been great to see those relationships continue to develop since that time, which has involved benefits not only for me personally, but also for my team at DibbsBarker," she said.
"I also felt wonderful recognition from my colleagues and the partners at the firm."
With submissions closing next Friday, on 14 April, all three young guns encouraged other up-and-comers to enter in this year's 30 Under 30, saying the awards provide an excellent platform to build on and acknowledge achievement of hard work being completed.
"I would definitely recommend other junior practitioners, with the support of their teams, to enter a submission," Ms O'Driscoll said.
"The process of entering a submission on its own gives you the opportunity to take stock of your achievements, and reflect on your contributions in the legal profession and community more broadly.
"I also found that in seeking references for my submissions, I was pleasantly surprised with the feedback."
Ms van Weerdenburg had a similar sentiment.
"I would absolutely encourage other young lawyers to enter a submission for the 30 Under 30," she said.
"It allows you to take a step back from the day-to-day and reflect on the work that you have done to date, and be proud of initiatives and projects that you have been involved in.
"The awards night itself was a really fun and relaxed celebration, and the opportunity to meet other finalists and winners from across the country was fantastic."
The Lawyers Weekly 30 Under 30 will be held on 23 June at the Ivy Ballroom, Sydney.
With Taylor Root as its principal partner, the event aims to uncover the leaders of tomorrow, recognising young lawyers who are striving for professional excellence within their specific practice areas.
To learn more about the event, click here.
To lodge a submission or to nominate a friend or colleague, click here.
For any further enquiries, please contact Craig Lynch on 02 9922 3300 or This email address is being protected from spambots. You need JavaScript enabled to view it..