Lawyers rush to aid of Cambodian monks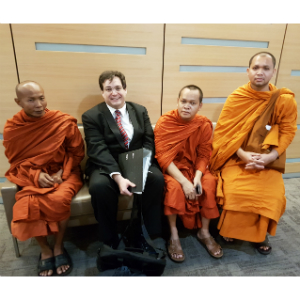 Legal representatives have sought an emergency interim order from the Supreme Court of NSW in a last-ditch bid to help three Cambodian monks stay in Australia.
Suddenly faced with the prospect of a forced to return to Cambodia, three monks from a Buddhist temple in Sydney have turned to the courts to help them continue fulfilling their religious duties in Australia.
Barrister Timothy Crispin, along with lawyers Michael Doyle and Simon Jackson, are involved in proceedings on behalf of the three monks before both the NSW Supreme Court and Administrative Appeals Tribunal (AAT).
The Cambodian monks have been on bridging visas until the matter of their 401 visa sponsorship is resolved with the Department of Immigration and Border Protection, with the Cambodian Buddhist Society of NSW (CBS) listed as one of the respondents in the case.
Speaking to Lawyers Weekly, Mr Jackson discussed some of the complexity of the Wat Khemarangsaram monks' dispute. The lawyer from Canberra-based firm Concorde Legal, who specialises in litigation, said the issues in the case could be potentially groundbreaking.
The lawyers were called in at the 11th hour to find a legal remedy that would allow the monks, who speak limited English, to carry on with their religious duties in Australia for another term under their 401 visa as planned.
"There has been no precedent about whether or not a civil court could estop someone to assist [another party] in their immigration application," Mr Jackson said.
"Trying to estop someone withdrawing their support in an immigration matter, regardless of the outcome of the immigration matter, might have some implications on any future applications," he said.
Mr Jackson explained that the CBS had originally invited the monks from Cambodia to join a local Buddhist temple in Bonnyrigg under Australia's former 401 visa scheme.
Although a new subclass category has replaced that particular type of temporary work visa, he said the ongoing support of a sponsor under the old scheme is still required for foreigners to remain in Australia for what is classified as their temporary work.
It is understood that there is ambiguity over which officers of the CBS have the authority to rescind support of a monk's visa on behalf of the organisation.  
Last week, the monks' legal team asked the NSW Supreme Court to make an interim order to effectively prevent the CBS from rescinding their support of the visas, at least until a judge can hear the matter on the expedited list. That may take another two months.
The three lawyers have been engaged by a supporter of the monks, who has instructed them to act for the Cambodian men. Mr Jackson noted that this agent-client arrangement helped to work around certain cultural sensitivities that may come about from discussions on cost agreements and other transactional matters.
"Typically speaking, when you take instructions from a client, you would meet the client; and would provide them with a cost agreement and an estimation of what your costs are, among other things.
"And the client would read it. You'd take them through it, and once you are happy with the terms of that costs agreement, that party could sign," Mr Jackson said.
"One issue, as I was advised, is that Buddhist monks don't handle money. So going to them, giving them a quote wouldn't have [been difficult]," he said.
Mr Jackson also acknowledged the obvious challenges when acting for non-English speaking clients, however noted these difficulties can be overcome. Access to competent interpreters and support people go a long way to facilitating good engagement with limited-English clients, he suggested.
"A face-to-face meeting with an interpreter was very important. The monks were active in the process and they asked us questions. They had questions through the interpreter and we answered their questions, and they told us, 'We're happy and satisfied for you to proceed'.
"Once we got through that process; everyone was comfortable and they were happy for us to represent them," Mr Jackson said.
"Because the monks were coming at [the legal process] from a non-Western perspective, they said 'We wanted to know who you were as people, rather than just whether you were qualified'. And they were reassured that the barrister and I were good people – that they could trust us."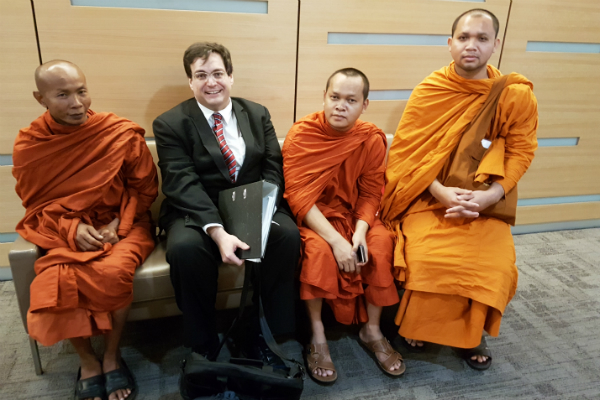 Mr Crispin with the monks of Cambodian Buddhist temple Wat Khemarangsaram.