iPads to replace iPhones in law firms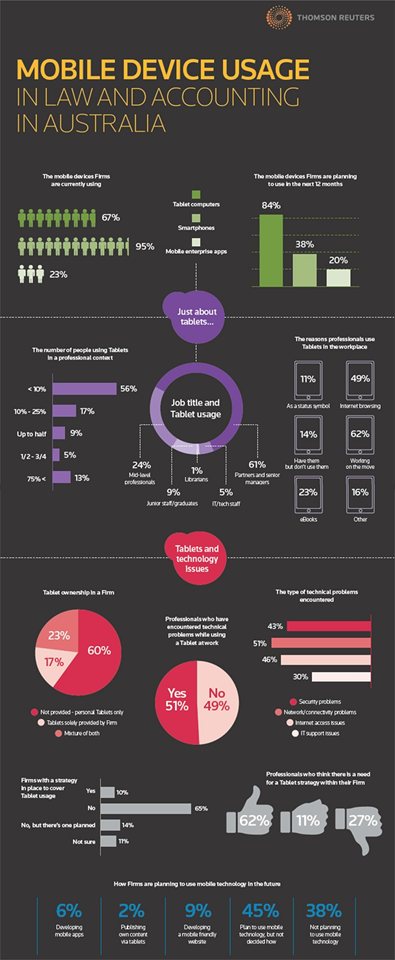 Tablet devices will soon be used in law firms more frequently than smart phones, according to a new report released by Thomson Reuters.
The report, titled Mobile Device Usage in Law and Accounting in Australia, revealed that while 95 per cent of respondents are currently using smart phones and 67 per cent are currently using tablets, within the next 12 months, firms would like to see that shift to only 38 per cent using smart phones and 84 per cent using tablets.
The respondents to the survey included 324 senior staff or partners across medium to large legal and accountancy firms in Australia.
Remarkably, of those who already use tablets for work, 11 per cent said they primarily use it as a status symbol. Almost half of users (49 per cent) said they use the tablet for internet browsing, while 62 per cent said they find it useful for working on the move. Fourteen per cent of respondents said they have a tablet but don't use it.
According to the survey, only 17 per cent of firms actually provide staff members with a tablet, while 43 per cent of those who use a tablet for work reported security issues.
Further, while 62 per cent of respondents said there is a need for tablets within their profession, only 10 per cent of respondents said their firm had some sort of strategy in place for the use of tablets.
Overall, there seems to be a general state of confusion about the future of mobile technology within firms, with 45 per cent of respondents saying they intend to use it in the future, but are not sure how they will do so.
More than one third of respondents (38 per cent) said they do not plan to use mobile technology at all, while 6 per cent said they would be developing their own applications.