Cloud can capture the young and disloyal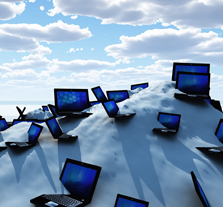 A legal IT cloud computing breakfast seminar on 8 March explored how cloud computing can help law firms attract and retain top talent and a "disloyal" young workforce.
The managing partner of Blackstone Waterhouse Lawyers, Danny Arraj, adopted cloud services through the provider OBT in 2010.
He believes his firm is one of a minority of law firms innovative enough to take on an IT system which delivers increased profitability, IT reliability, and staff mobility and productivity through remote IT access.
"Next time you're told by a lawyer that they're innovative, please don't believe them," Arraj told the forum gathered at the Sydney Business Chamber.
"Every lawyer will tell you, and their website will tell you, how innovative and dynamic they are, but ask them when they first considered using the cloud, and have they moved onto the cloud, and the answer is invariably 'no'."
However, law firms are starting to catch on to the cloud concept.
Philip Scott, sales manager at OBT, said that while accounting firms were one step ahead of law firms as leading customers of OBT, "law firms will overtake them in the next six months".
Arraj and other lawyers at the seminar said a major reason firms were hesitant to take on cloud services was fear that the supplier might go out of business or be bought out, rather than fear of security issues over information.
"In the end, it was quite an emotional decision [to adopt cloud services] … The dating process [with the vendor] took close to year," said Arraj, adding that the decision was based on "trust, confidence and costing".
Blackstone Waterhouse, which will double its headcount when it opens an office in Melbourne in May, now has less downtime, faster data recovery, more physical office space, higher staff morale, and attracts top-tier staff into its mid-tier environment, said Arraj.
"We can advertise a good work-life balance. We have a lot of mothers who work for us from home … A lot of our employees live an hour away from Sydney CBD, so they're working [and] entering time on the train so it doesn't affect their billing. They end up leaving work earlier and they're happy and I'm happy," he said.
Gen Y have their heads in the cloud
Remote and speedy IT access, which cloud services provide, are also vital to retaining Generation Y in a professional services firm.
According to Shane Muller, the managing director of OBT, while the average worker currently will work for nine different companies, analysts are predicting workers from Generation Y will work for over 19 different companies over the course of their professional lifetime.
"This new generation of employee needs the ability to consume multiple applications across a number of devices to enable them to work seamlessly, in a flexible environment that suits their needs," he said.  "They want to work the way they want to work and not be restricted by technologies or process. This creates new business challenges for organisations, which is why many companies today are looking at cloud as a viable solution to meet these needs."