In-house litigation has benefits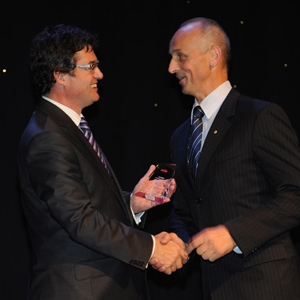 Having an in-house legal team able to handle its own litigation is the key to winning strategic cases for the business, according to the Specsavers legal director Asia Pacific.
Dr Stretch Kontelj spoke on the topic The Challenges of Running Litigation In-house at the Australian Corporate Lawyers Association (ACLA) Corporate Counsel Day held in Brisbane on 8 March.
In recent years, Kontelj (pictured, right, at last year's ACLA Awards) has guided Specsavers through more than nine successful litigation matters, largely arising from comparative advertising disputes.
"We won the ones we needed to win," he said.
Specsavers, which offers low-cost eyewear to consumers across Europe and the Pacific, entered the Australian market in 2008, and Kontelj describes the company's arrival as the "perfect storm for optometry".
"OPSM was the major player in the market, and Australians were paying an absolute fortune for glasses," he said. "[Specsavers] was completely unknown five years ago. Now they have 265 stores in Australia … You've got to break a few eggs to make an omelet, and there has been aggressive mass marketing. The whole [market] has been turned on its head. It's revolutionary."
Kontelj said the arrival of Specsavers also saw the birth of a dirty advertising war that resulted in "huge" cases for which he had to put his career on the line.
"We had to be ready for a legal storm," he said. "With the comparative advertising, it got very aggressive … [Our competitors would] strategically place an ad just as we were about to go home on a Friday. You couldn't go to court until the Monday. That was what was happening, tit for tat, all throughout 2009 and 2010."
In such circumstances, said Kontelj, the business was unable to rely on the Australian Competition and Consumer Commission (ACCC) to act in a manner which would be effective for the needs of the business.
"You can't rely on the ACCC taking up fights for you. They are busy and with limited resources. They would say, 'Sort it out yourselves'," he said.
"You need fast action. You can't afford to have those ads running for weeks on end."
Kontelj said that in such a competitive industry, his legal team often has no choice but to run the litigation themselves, and referring work to an external law firm is not necessarily the best option – especially when it comes to keeping costs down.
"In-house litigation retains cost, and we have an understanding of the company and the industry," he said. "You don't want to be educating external lawyers each time you have a dispute. We have the best knowledge."
Kontelj said those in-house legal teams that do take on their own litigation need to have the absolute support of the business's executives, and also be given an appropriate budget which takes into account the expense involved.
"You have got to have support of the CEO," he said. "We knew we had pretty much unlimited budget [for litigation]."
Kontelj also said it is crucial for in-house teams to be ready for anything that might emerge during disputes.
"Preparation, preparation, preparation," he said. "The group that is best prepared wins. You have to be prepared to gamble everything … You can't get it wrong. It can be diabolical if you get it wrong, and your credibility will be shot."
Kontelj has previously served as the mayor of Geelong and unsuccessfully stood for federal and state parliament for the Liberal Party.
In 2011, he took out theCorporate Lawyer of the Year Award at the ACLA In-house Lawyer Awards.
In 1983, he was named the beer-drinking champion of Geelong.