Lawyers demand inquiry into lethal stun guns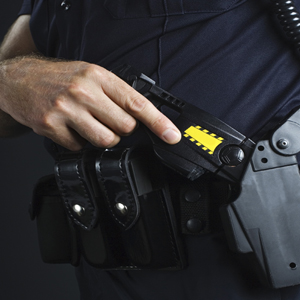 Lawyers are calling for a suspension and rigorous review of Tasers as Victoria Police prepare to rollout a new un-trialled, double-barrelled model across the state.
The Australian Lawyers Alliance (ALA), Law Institute of Victoria (LIV) and Human Rights Law Centre (HRLC) are among groups which have criticised a planned $12 million rollout of new Tasers in Victoria, announced just days before the death of a young man in Sydney.
On the morning of 18 March, NSW Police used capsicum spray and then the electroshock weapon on a Brazilian student at a convenience store in Sydney CBD, after he allegedly stole a packet of biscuits and then resisted arrest. The man died at the scene.
"We are not aware of any studies on the combined effect of capsicum spray and Tasers. These studies should be done before they are ever used in tandem," said LIV President Michael Holcroft, urging Victoria Police to properly evaluate the new model before it is issued.
The double-barrelled model allows an officer to fire two electric shots without reloading, and features an on-board video camera that records footage once a shot has been fired.
According to HRLC's director of advocacy and strategic litigation, Anna Brown, Tasers, which administer a 50,000-volt electric shock, were trialled by police in Bendigo and Morwell in 2010 and are now carried by two police specialist units in Melbourne. The new double-shot Tasers, however, were not part of this trial and have yet to be properly evaluated.
Brown said Victoria Police must justify how arming police with Tasers reduces the use of lethal firearms and increases public safety considering there have now been four recorded Taser deaths in Australia to date – three in which it is alleged a Taser was used inappropriately or excessively.
The ALA has called for a national judicial inquiry into the use of Tasers, capsicum spray and other potentially lethal police weapons.
ALA national president, Greg Barns, said Tasers have continued to be rolled out in Australian jurisdictions since their 2001 introduction despite deaths, including this latest incident, being directly linked to their use.
"Mounting international evidence of the danger [of Tasers] was made back in 2008 as part of the Braidwood Public Inquiry in Vancouver following the death of Robert Dziekanski. At this inquiry, Taser International CEO Tom Smith admitted that use of the Tasers was not risk free," said Barns.
As a result of this inquiry, retired judge Thomas Braidwood's findings that "Taser weapons pose a risk of serious injury or death" were upheld by the Supreme Court.
"[This] determined that the [judge] had carefully examined the opinions of medical experts," said Barns. "Yet you have a situation where another Australian death doesn't cause the Victorian Police Chief Commissioner, Ken Lay, to pause and consider introducing them now in Victoria."
Young, mentally-ill and drug-affected at heightened risk
There is evidence from Australia and overseas which shows young people are at a higher risk of injury or death from a Taser due to their smaller body mass. Those affected by drugs or alcohol, or with a heart or mental-health condition are also especially vulnerable.
In 2002 the first death by Taser occurred when a mentally-ill man from NSW died of a heart attack after threatening police with a frying pan.
"A scathing report from NSW Ombudsman Bruce Barbour came six years after [that] event," said Barns.
Another mentally-ill man, Adam Salter, was shot with a firearm and killed in 2009 by a police woman yelling, 'Taser, Taser, Taser'. Mounting evidence showed that confusion may have come from carrying too many weapons, including a firearm and a similarly shaped Taser on her waist.
In 2009, an Alice Springs man died after both a Taser and capsicum spray were used to subdue him following a domestic dispute. The third victim was a Queensland man who died last year after being tasered up to 28 times.
The United States has just counted its 500th Taser-related death, according to Amnesty International.
"Tasers continue to be promoted by police and politicians as a safe alternative to hand guns, but clearly they are not. This may be furthering their unnecessary use as a quick fix to an otherwise protracted drawn out stand off with a suspect," said Barns.