Brockovich adds sparkle to Shine HQ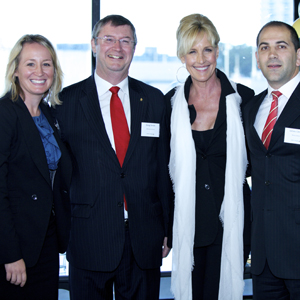 Erin Brockovich was the star attraction at the official unveiling of Shine Lawyers' new head office on 26 March.
Brockovich, a paid ambassador for Shine, was the guest of honour as the Brisbane building where Shine's national office is located was branded with the firm's name, replacing the signage of the fellow tenants, Tourism Queensland.
Shine and Tourism Queensland are both tenants at 30 Makerston Street in Brisbane's CBD.
Brockovich was also on deck as a Shine ambassador last week when the firm opened an office in Parramatta in Sydney's western suburbs (Brockovich is pictured, third from left, at the Parramatta opening, with NSW Attorney-General Greg Smith, second from left, and Lisa Flynn and James Charra from Shine Lawyers).
"I'm here in Australia to promote the work of Shine Lawyers and help build relationships to aid Shine's legal mission," she said.
Shine now has 28 offices throughout Australia, with 20 of those in Queensland.
Brockovich will also address a breakfast being organised by the Queensland Law Society (QLS) and Women Lawyers Association of Queensland in Brisbane on 31 March. The breakfast is part of the QLS's 50th Anniversary Vincents' Symposium.
Brockovich has become a vocal environmental crusader and consumer advocate since the Steven Soderbergh directed film about her battle to win compensation for the residents of a small town in California was a cinema hit in 2000.
She has lent her name to many causes and endorsements, and has also courted controversy along the way.
Her credentials as a campaigner against abuse by big business was questioned after she linked up with Shine Lawyers, as her appointment as an ambassador came a few years after its former managing partner, Stephen Roche, was suspended from practice for one year after the Queensland Solicitors Complaints Tribunal found he had overcharged a vulnerable client.
When Roche was suspended in 2003 the firm was known as Shine Roche McGowan Lawyers. It rebranded as Shine Lawyers in 2006.
In 2008, Brockovich received angry letters from disgruntled customers after she was the face of an advertising campaign for New Zealand electronics retailer Noel Leeming.