Small firm takes on Palmer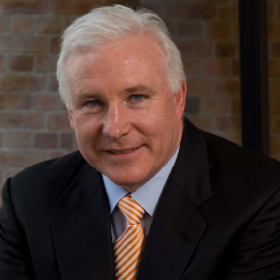 Two lawyers from an eight-lawyer firm went toe-to-toe with mining billionaire Clive Palmer to broker a settlement over control of a luxury hotel.
Ryan Lawyers principal Tony Ryan (pictured) and consultant Chris Greiner acted for Hyatt of Australia Limited in a legal stoush with Palmer over the control of the Hyatt Regency Coolum Golf Resort and Spa on Queensland's Sunshine Coast.
Palmer is the owner of the Coolum Resort Pty Ltd and Coeur de Lion Investments Pty Ltd (CDLI), the owners of the hotel.
The controversial Queensland-based mining magnate terminated the management agreement with Hyatt on 20 February. He accused Hyatt management of being more interested on increasing turnover than generating a profit, and that during Hyatt's tenure as the resort's managers; they had accrued "millions of dollars in losses to the owners".
"I jumped on a plane and went off to Brisbane and got an injunction restraining him," said Ryan Lawyers principal Tony Ryan when speaking to Lawyers Weekly about the successful application to the Queensland Supreme Court for an injunction to stop Palmer terminating the management agreement.
"I was then in Brisbane for the next five weeks."
Ryan and Greiner were previously partners at Blake Dawson Waldron (now Ashurst), with Ryan establishing his own firm in 2004.
After successfully lodging the injunction, Palmer then placed the resort into voluntary administration on 29 February. A month-long legal battle involving a plethora of law firms was then played out in the Queensland Supreme Court.
In addition to Ryan Lawyers, McCullough Robertson acted as the Brisbane agent for Hyatt Australia. Managing partner Guy Humble was assisted by partner Scott Butler and senior associate Tim Case.
Ashurst acted for the resort's owners and the voluntary administrators, KordaMentha, after the hotel went into administration on 29 February. Brisbane-based partner John Lobban and special counsel Ian Innes led a team of eight lawyers that worked on the matter full-time.
Prior to the placement of the resort into administration, Joe Welch, a partner with Hickey Lawyers, acted for the Coolum Resort and CDLI.
HopgoodGanim partner Liam Prescott and solicitor Jon Erbacher acted for Clive Palmer after the Coolum resort was placed into administration.
"It was certainly no-holds barred litigation," said Ashurst partner John Lobban when speaking with Lawyers Weekly at Coolum just prior to the second creditors meeting.
Ryan also described the litigation and negotiations to reach a settlement as being "difficult", and said that he and Palmer were often locked in intense discussions.
Ryan said the outcome of the case was being closely followed in Chicago – where the Hyatt Hotels Corporation is based, and by litigation practitioners across the world.
"It was an interesting sort of case, as it is not usual for owners of hotels to do this (sack the management)," said Ryan. "So it is quite an important decision in terms of making an injunction available where there is a purported termination of a management agreement. 
"It was a seminal case for that reason."
The amount Palmer paid the Hyatt group to settle the matter remains confidential. Under the terms of the settlement, Hyatt have agreed to forfeit its 24-year control of the hotel to CDLI and all "negative allegations" made by both parties have been withdrawn.
The Coolum Golf Resort has around 900 creditors and 650 employees.
Palmer's army of law firms
With an expansive business empire, a fondness for instigating litigation, and regularly earning the ire of the federal government, environment groups and Football Federation Australia, Palmer has a host of law firms on the payroll.
Ashurst has had a particularly fruitful association with the billionaire. Under its previous moniker of Blake Dawson, the firm often acted on high profile corporate matters for companies owned by Palmer, including the planned multi-billion initial public offering of Resourcehouse in Hong Kong last year, which Palmer later shelved.
Blakes also provided counsel on numerous occasions to Palmer with regard to work undertaken by his private company, Mineralogy, and late last year, the firm also acted for Palmer in a NSW Supreme Court matter where Palmer was cleared of any wrongdoing with regard to his purchase of the Yakubu Nickel Refinery from BHP Billiton in November 2009.
Ashurst Sydney-based corporate partner Murray Wheater has often been the partner of choice used by Palmer for major transactions. He was the lead partner on the planned Resourcehouse IPO and also led the firm's team on the $126 million purchase of Waratah Coal by Mineralogy in 2009.
Palmer has a long association with Tony Hickey, the founder of the Gold Coast-based Hickey Lawyers that Palmer initially used in the Hyatt matter. Palmer and Hickey have been friends for more than 30 years, with Palmer and Resourcehouse regularly using the firm for legal work.
Palmer has also used Clayton Utz for work that involves his Gladstone Pacific Nickel company, and he has also used Freehills to act for a number of corporate matters.
International law firms that Palmer's companies have used include Clifford Chance, Shearman & Sterling, the niche London-headquartered business law firm Lawrence Graham and the Canadian firm Heenan Blaikie.
While the Hyatt matter has been put to bed, Palmer still finds himself at the centre of a number of controversies.
He has threatened to start a breakaway football league in Australia after the team he owns, Gold Coast United, was kicked out of the A-League competition in late February.
In March, Palmer accused the CIA and the Australian Greens of engaging in a conspiracy to destroy the coal industry.