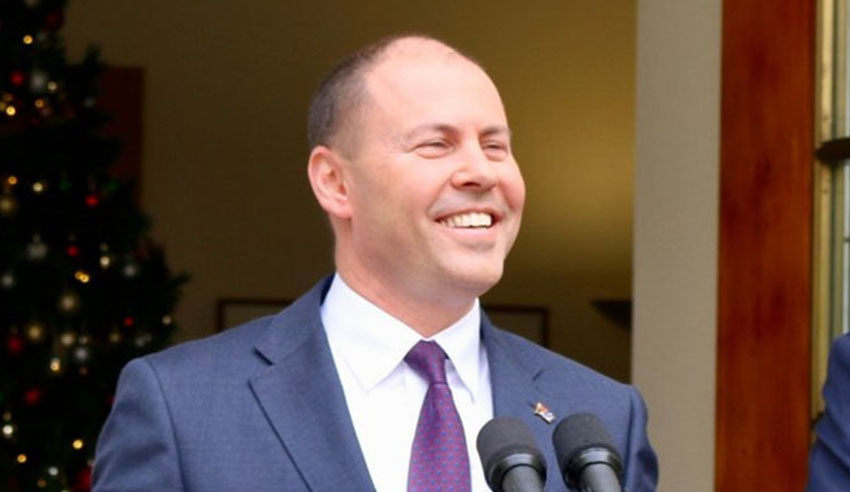 The 2019 federal budget has been handed down, with implications to be felt across Australia's legal profession and the communities it serves.
Last night Treasurer Josh Frydenberg delivered the 2019-20 federal budget, announcing a projected surplus of $7.1 billion, which he noted is a $55 billion turnaround from the deficit "we inherited six years ago". The 2018/19 financial year will end in deficit, however. 
"Surpluses will continue to build toward 1 per cent of GDP within a decade, as we climb the mountain and reach our goal of eliminating Commonwealth net debt by 2030 or sooner," Mr Frydenberg said in his delivery. 
Despite many in the legal profession calling for greater legal assistance funding in the lead-up to this year's budget, the government dedicated just $30.5 million over three years for legal assistance services for those experiencing family violence, older Australians, people with disabilities, Australians with mental health issues, Indigenous Australians and those living in rural and remote areas.
This funding, according to the Law Council of Australia, falls well short of the additional $310 million per year needed to provide adequate justice to Australians at risk.
The big winner: Low- and middle-income earners 
The big winner of the night appeared to be low- and middle-income taxpayers, with those earning under $126,000 a year set to receive a non-refundable tax offset of up to $1,080 per individual, or, $2,160 for dual income families.
More than 10 million taxpayers are set to benefit, Mr Frydenberg said.
In addition, Mr Frydenberg said the government will lower the 32.5 per cent tax rate to 30 per cent from 1 July 2024, covering all taxpayers earning between $45,000 and $200,000, noting that it means 94 per cent of taxpayers "will pay no more than 30 cents in the dollar".
"Under the Morrison government, tax as a share of the economy will not rise above the 23.9 per cent cap," he asserted. 
"We will put a speed limit on taxes, while our opponents will put a speed limit on the economy.
"Mr Speaker, taxes will always be lower under the Coalition."
Ease for SMEs
In what is welcome news for boutique law firms and sole practitioners, SMEs have also gained from this year's budget.
The Treasurer announced the government would cut SME taxes to 25 per cent and increase their access to finance with a new $2 billion fund.
The instant asset write write-off was also increased from $25,000 to $30,000 and can be utilised every time an asset under that amount is purchased, effective immediately.
The instant asset write-off will also be expanded to businesses with a turnover of up to $50 million, covering an additional 22,000 businesses, Mr Frydenberg noted.
Infrastructure investment
Greater investment in infrastructure, "without increasing taxes", was also cited as a key priority in this year's budget, with Mr Frydenberg boosting spending to $100 billion on such projects over the decade.
So far, many of Australia's law firms have contributed to such projects, with this further funding allocation likely to increase matters for those involved in the construction and infrastructure space, as well as those who operate in real estate and planning and environment practice areas.
Mr Frydenberg said an additional $2.2 billion will go towards safer roads, $1 billion to improve freight routes and access to ports, and $100 million for the development and maintenance of regional airports.
Greater support to those environmentally affected
Mr Frydenberg also made reference to those communities affected by both drought and flood in his speech, noting that the Morrison government is providing $6.3 billion to the those affected by the former, and $3.3 billion to those affected by the latter.
The latter is likely welcomed by the legal profession in far North Queensland, in particular, who earlier this year saw devastating consequences arise both personally and professionally as a result of significant downpour. 
In addition, Mr Frydenberg said the Coalition will expand the National Water Infrastructure Development Fund, establish a Future Drought Fund, extend the farm household allowance, and support graziers through a new North Queensland Livestock Industry Recovery Agency.
"Tonight I can announce we will establish a new $3.9 billion Emergency Response Fund that will ensure additional resourcing is available to support future natural disaster recovery efforts," he said.
Young people advancement
Mr Frydenberg committed "around $300 billion" to all schools as a sign of the government's commitment to ensuring quality education opportunities for young Australians.
A new scholarship program was also introduced by the Treasurer, which will see over 1,000 students a year study in regional Australia.
"We want our children to get the best possible start in life. So tonight, I am announcing $453 million to once again extend pre-school education, enabling 350,000 children to receive 15 hours of quality early learning per week in the year before school," Mr Frydenberg said.
"We will continue to work with the states and territories to support a longer-term plan – lower taxes, more infrastructure, better skills and a quality education.
"This is our plan for a stronger economy that will help our nation reach its potential and enable every Australian to reach theirs."
Protection of the elderly 
Mr Frydenberg announced that this year's budget includes a $725 million investment focused on older Australians.
It includes 10,000 new home care packages and additional financial support for residential care, he explained.
"[We're] providing additional cost of living relief for pensioners through a one-off Energy Assistance Payment of $75 for singles and $125 for couples," the Treasurer said.
"This payment will be paid this financial year and comes on top of other actions the government has taken to reduce power bills."
He also called out to Australia's carers, noting that the government will invest $84 million to them "to leave a loved one in safe hands and get a much needed break".
The focus on the elderly and carers comes as the first royal commission into Australian aged care facilities kicks off, with many Australian lawyers maintaining a close eye on the proceedings. 
 Other notable measures in this year's budget, as highlighted by the LCA: 
$104.5 million over four years for the establishment of the Commonwealth Integrity Commission;
$404.8 million over four years from 2019-20 for ASIC to expand regulation and enforcement of financial services sector banking royal commission;
$145 million over four years from 2019-20 in APRA funding to address key

banking royal commission

concerns regarding its supervisory and enforcement activities;
More than $17 million over three years in funding for the provision of legal assistance services supporting the Royal Commission into Violence, Abuse, Neglect and Exploitation of People with Disability;
$18 million over four years for 12 frontline service trials (including legal services) to support elder abuse victims; and
$25.1 million over three years from 2019-20 for the Office of the Information Commissioner (including capital funding of $2 million).
Find out more about the budget 2019-20 in Lawyers Weekly's special Budget Bulletin later today, featuring reaction commentary from players in the profession.