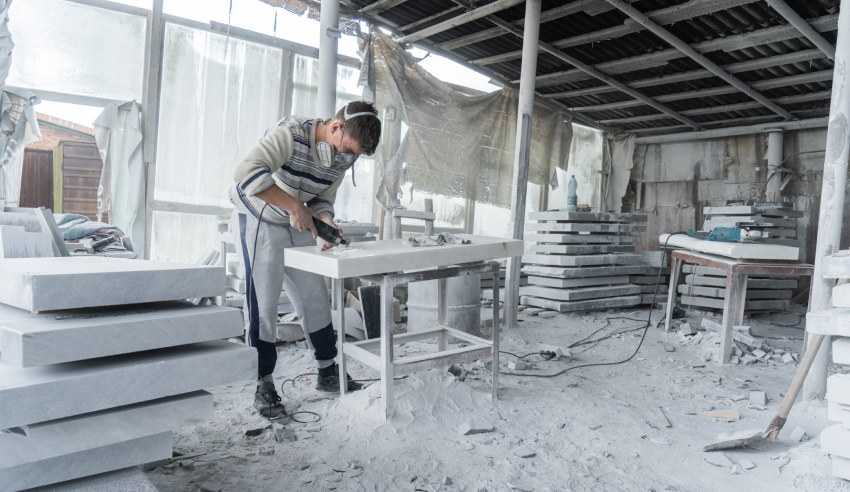 The National Dust Disease Taskforce has delivered its final report into the investigation of silica dust exposure, and plaintiff firms have weighed in.
The taskforce received over 120 stakeholder submissions, held 11 targeted sessions and held forums across the country for 146 individuals. Set up by federal health minister Greg Hunt in 2019, the report has been welcomed by both Shine Lawyers and Slater and Gordon.
"The re-emergence of silicosis has been mostly driven by the popularity of engineered stone material which has been available in Australia since the early 2000s. Every case of silicosis affecting a stone benchtop worker is evidence that businesses, industry and governments need to do more to recognise and control the risks of working with engineered stone," it stated.
Last month, Victoria announced that lung cancer with silicosis and scleroderma with silicosis would be added to the state's list of proclaimed diseases, meaning workers would no longer need to fight to be eligible for workers compensation under the Workers Compensation Act.
Silicosis is a long-term lung disease caused by crystalline silica – which is often found in certain types of engineered stone as well as rock, sand and clay. People who work with these materials, including stonemasons who cut engineered stone into kitchen benchtops, create a fine dust that is easily inhaled.
This news followed years of lobbying by Shine Lawyers and infected workers – the firm launched a series of lawsuits against global minerals company Unimin earlier this year after seven former workers were diagnosed with a range of diseases linked to toxic dust exposure at two of its Melbourne-based silica milling factories.
Although the report has not recommended a full product ban at this stage, vast improvements must be made within the next three years. If the engineered stone industry and government cannot demonstrate that engineered stone can be used safely in that time period, action will be taken to ban engineered stone completely.
Roger Singh, national litigation specialist at Shine Lawyers, said that three years was too long a period for such a dangerous material.
"For years, we've been calling for a licensing scheme to ensure the cutting of engineered stone is restricted to businesses that can demonstrate compliance with rigorous workplace health and safety regulations," he said.
"It is our hope a licensing scheme can turn this around but, should it fail to do so, a ban on engineered stone is a necessary next step.
"While the taskforce has recommended such a ban be introduced within three years should workplace conditions remain unacceptably dangerous, we say this is too generous a grace period.
"In our view, the federal government should review a licensing scheme within 18 months of it being introduced because every delay could potentially claim another life."
Slater and Gordon practice group leader Joanne Wade said that Slater and Gordon welcomed the report and supported the potential ban of engineered stone products.
"Systemic change is required to improve protection. The report highlights reform is urgently required. It states that existing Work Health and Safety laws have failed to protect workers from developing silicosis. The manufacturers of engineered stone products also owe a duty to people working with their products to ensure that they are safe and that the risks they present are accompanied by appropriate warnings," she said.
"Slater and Gordon support a key recommendation that if by July 2024 there is no measurable and acceptable improvement in regulatory compliance rates, a full ban should be implemented on the importation of some or all engineered stone products.
"We support the recommendation to better support affected workers through tailored programs of psychological, financial and return-to-work support, as well as training our medical teams and professionals to provide better care to those suffering from silica related diseases."
In addition, the report found that nearly one in four engineered stoneworkers who have been in the industry since 2018 are suffering from silicosis or other silica dust-related diseases and suggested that existing WHS regulatory frameworks have not effectively protected people working with engineered stone.
"Reform is urgently required," it stated.
"Immediate action is required to better protect workers from hazardous exposures, reduce the burden of occupational respiratory disease, and ensure Australia has strong, responsive and fit for purpose arrangements that identify occupational respiratory hazards early and ensure safe workplaces. History cannot be allowed to repeat."