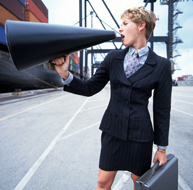 One barrister displayed her grasp of colourful language on Friday (June 22) after she was convicted of resisting and obstructing police during a New Year's Eve altercation.
On the night in question, Sacha Beacham, 40, clung to the windscreen wipers of her friend's car in Napier, abused police and told them to "shut the f***ing door" and "f**k off", according to the NZHerald.
She was charged in the Hastings District Court with obstruction, disorderly behaviour and resisting police. She was also accused of performing an indecent act with intent to offend, for an incident which occurred that night at Napier police station.
Beacham was sitting in the passenger seat of her male friend's Volvo when police stopped the car at around 2.15am to breathalyse the driver.
Perhaps Beacham should have been breathalysed too, as she tried to stop police from escorting her companion after he failed an initial breath test.
Wipeout
Repeatedly ignoring police requests, Beacham hurled abuse at the cops and attempted to dodge being handcuffed by grabbing onto the Volvo's wipers.
This is her fifth conviction in ten years, following previous drink-driving convictions. She lost her bid to have her name suppressed and her brain snap this time didn't prevent photographers snapping in the District Court.
Beacham shouted abuse at them too outside court on Friday and continued screaming her disapproval as she walked through Hastings' CBD.
 The rant continued all the way to the Hawke's Bay Today newspaper offices where she yelled "Shame on you, Hawke's Bay Today", from the street, and said she was en route, not to an AA meeting, but to the pub, if media wanted to take more photos.
Perhaps the paper will run a story on the drinking habits of lawyers, or the wonder of alcohol-induced memory loss and social lapses.
At Friday's hearing, a dejected looking Beacham defended herself and admitted to resisting and obstruction. She must have remembered something from law school, as two remaining charges were withdrawn.
Beacham agreed her behaviour was "entirely misplaced and inappropriate", said Judge Barney Thomas.
Thomas said she should have known police were within their rights and fined her a measly $200 on both charges and $132 court costs. Pocket change for a barrister, surely.
Thomas declared that the principle of open reporting applied as he allowed cameras into the courtroom.
Beacham no longer holds a practising certificate and has moved to Auckland so she doesn't have "anything to do with Hawke's Bay police professionally or personally" anymore.