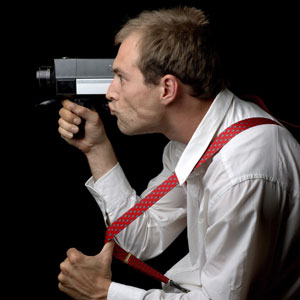 A Canadian judge may lose her job over a series of nude snapshots that were the centre of a sexual harassment suit.
Justice Lori Douglas is the subject of an inquiry by the Canadian Judicial Council after her husband, Jack King, sent several of the racy snapshots to a former client who alleged that the couple sexually harassed him, CBC News reported.
The sad, salacious story began in 2002 when King, a divorce lawyer, posted 35 nude photos of his wife on Dark Cavern, a porn website where people arrange interracial sexual encounters. He told the court that the photos appeared in the 'Wives and Black Lovers' section of the site because he had fantasies of a "threesome of an interracial nature".
Folklaw assumed that a bitter divorce must have sparked this vicious cyber attack.
But no, King is just kinky and stupid – his words, not Folklaw's. King admitted he felt "shame and stupidity" and described his actions as the "pursuit of some absolutely bizarre sexual behaviour on my part".
His stupidity doesn't end there. King sent a number of the photos to Alex Chapman, one of King's former clients, who is also black, in an attempt to entice him to have sex with Douglas. Chapman complained about the harassment in 2003 but promised to keep silent in a $25,000 settlement with King.
But, in 2010, Chapman voided the settlement and went public with the allegations.
King may be stupid, but at least he's loyal. King told the inquiry that his wife didn't know that he was sharing the photos on the internet, or that he'd sent them to Chapman.
The inquiry is examining whether Douglas should lose her job as associate chief justice of the Manitoba Court of Queen's Bench because of the controversy. It will also investigate three other allegations against Douglas, including that she participated in her husband's harassment of Chapman.
The Canadian Judicial Council has held just nine inquiries in 40 years and has only once recommended that a judge be removed.
In 2009, the council recommended that Paul Cosgrove be removed as a justice of the Ontario Superior Court due to incompetence and abuse of his powers.
Folklaw will keep you updated on whether Douglas joins Cosgrove in the Canadian judiciary's hall of shame.