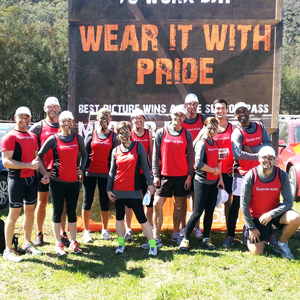 The pain of seeking an interlocutory injunction and all-night sessions in the office helped a group of lawyers to endure regular electric shocks and run through barbed wire at the weekend.
Twelve lawyers from Norton Rose competed in the Tough Mudder endurance run on Saturday (22 September).
While Folklaw's idea of an ideal Saturday morning is to maybe take in a leisurely stroll before retiring to listen to some Neil Young or David Bowie (Ziggy Stardust era), this hard lot negotiated a 20km course at Glenworth Valley, north of Sydney, that included such nasties as the 'Spider's Web', 'Kiss of Mud', 'Electric Eel' and 'Firewalker'.
"There was lots and lots of mud," said Norton Rose partner Rob Buchanan (pictured second from left with the Norton Rose contingent) when talking to Lawyers Weekly after the event. "It was a standard military-style assault course with high things you had to climb over and muddy things you had to crawl through, with a bit of barbed wire thrown in for effect."
To Folklaw's mind, Buchanan's status as being completely insane was confirmed when he said his 'recovery' following the Tough Mudder run involved a 50km bike ride this morning (25 September) before work.
He said that the genesis behind his firm's decision to enter a team stems from a Girl vs Wild weekend his 13-year-old daughter asked him to organise a while back in homage to Bear Grylls.
His team at Norton Rose got wind of this and wanted to do something similar. One thing lead to another and before they knew it they had signed up to an event where it is acceptable to be hit with regular shocks of 11,000 volts of electricity, something Buchanan likens to a hard punch.
"It was pretty good fun," he said. "Even the people that had never done anything like this before and were completely out of their comfort zone agreed all the way through it was fun."
Not Folklaw's idea of fun Rob! But we tip our hat to you and your team regardless.
The Norton Rose dirty dozen finished the course in a tick over five hours.
The event was staged over two days and featured more than 25,000 competitors.
Pictured from left to right is James Smith, Rob Buchanan, Sam Magnusson, Poppy Tucker, Clair Simpson, Amanda Underwood, Mark Waddell, Glen Warwick, Ilinka Manojlovic, Adam Hunter, Jacob Leslie and Dan Vicano