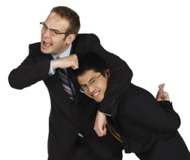 Chronic TV commercials for personal injuries firm Winters & Yonker have been axed in Louisville and Florida in the US after two of the firm's principals were suspended for misconduct.
The cashed-up firm spent $651,000 on 12,212 spots in that market in just eight months this year, according to TV-advertising tracker Nielsen Co.
Australian personal injuries firms Shine Lawyers, Slater & Gordon and Maurice Blackburn have in recent weeks shown they have the budgets to create ridiculously over-the-top advertisements for the airwaves here.
While Folklaw enjoys poking fun at these borderline scary trailers, it sure hopes no funny business is going on like in this US case.
Partners Marc Yonker and William Winters reportedly promote themselves as "aggressive attorneys" but, recently, they were found to have overstepped the mark.
The pair has allegedly been operating under a reciprocal referral arrangement with 1-800-ASK-GARY, a lawyer and doctor referral service owned by a Florida chiropractor, Gary Kompothecras.
According to the Courier-Journal, ASK GARY referred hundreds of cases to Winters & Yonker in exchange for the law firm directing them to seek treatment at clients owned by the chiropractor.
The mutual referrals violate ethics rules that forbid lawyers from offering any gift of value in exchange for a referral, law professors told the newspaper.
Winters & Yonker were deemed guilty of conduct involving fraud, dishonesty, deceit or misrepresentation; their criminal actions reflecting on a lawyer's "honesty, trustworthiness or fitness", the Florida Supreme Court found. They were suspended for more than 150 days altogether and banned from seeking new business in Florida during the period.
Folklaw suspects not too many folks will be keen to "ask Gary" when they hear about this.
The law firm has taken down its Florida website, although it is still online in Louisville.
Matthew Kannady, a partner in the Louisville office, declined to comment on whether the firm is still receiving referrals from 1-800-ASK-GARY.
Both the law firm and Kompothecras have denied wrongdoing, but Kannady acknowledged the relationship between them in a statement.