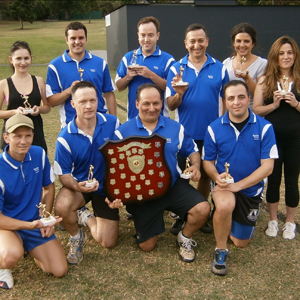 The footy fiends of Bartier Perry and Minter Ellison sweated it out recently in the final of the 2012 Lawyers Midweek Touch Football competition.
The day was eventually carried by Bartier Perry, which won 5 – 1 to take home its sixth touch football championship; no other firm has won the competition more than three times.
Executive lawyer Mark Underwood, the captain of the Bartier Perry team, explained to Lawyers Weekly that the competition was held in the Domain in Sydney over the course of seven weeks.
Along with the two grand finalists, six other law firms took part in the competition, including Clayton Utz, Wotton + Kearney, Henry Davis York, Baker & McKenzie, Middletons and Hicksons.
Underwood revealed that while the semi-finalists and finalists do take the games seriously once they reach the business end of the competition, the overall approach to the competition, which has been running since 1986, is a fairly casual one.
"I don't think any teams train for it; you just turn up and play your game each week."
The five-a-side teams are mixed, with each firm having to have at least one female player on the field at all times.
The 22 November final was a tense affair, with both teams playing for pride; the two great rivals had previously met in the final in 2007, 2008, 2009 and 2010, but neither made it to the final last year.
Neither team scored in the first half but Underwood himself scored three tries in the second half, with Peter Kramer and Andrew Gawthorne scoring the other two.
Underwood praised his team's performance: "The second-half effort was fantastic. I thought we adapted really well."
The SJ O'Halloran shield was presented to the winning team by Stephen O'Halloran himself, the White Barnes partner who founded the competition in 1986.
Underwood told Lawyers Weekly that the Bartier Perry footy fanatics have every intention of returning to the fray to defend their title next year.
Pictured: The victorious Bartier Perry team: Back row L-R: Elena Klishkovska, Peter Kramer, Andrew Gawthorne, Mick Franco, Amanda Malouf, Jenny Zitis
Front row L-R: Jason Fuoco, Mark Underwood (C), Gerard Basha, Peter Lichaa