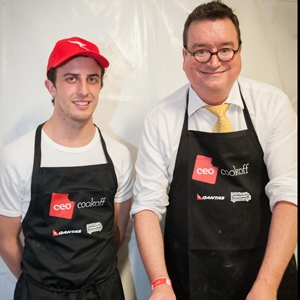 Enormous fun is how David Cross (pictured right), the head of Norton Rose's Sydney office, described the opportunity to feed almost 1000 homeless people at Monday night's CEO Cookoff in Sydney.
It might sound like a peculiar remark, particularly given the supposed philanthropic nature of the event, but Folklaw (a socialist at heart) is willing to let this one pass. The reason being, Cross, and his fellow warm-hearted CEOs (including Qantas boss Alan Joyce), managed to raise more than $1 million for Australians living on the streets.
The CookOff, a joint initiative of OzHarvest and Qantas, brought together celebrity chefs and CEOs to raise awareness around food security, the plight of homelessness and youth in crisis, while raising much-needed funds for OzHarvest, The Big Issue and ONE80TC.
Cross, who raised almost $6000 thanks to contributions from Norton Rose staff, told Folklaw that he was staggered by the size of the event and was delighted to help a terrific cause.
"Everybody seemed to enjoy it," said Cross. "The homeless people are in a position where they feel overlooked by society … it was great to get an opportunity to help them."
Cross, who said he's a keen culinary student at home, was joined in his cooking tent by Melbourne chef Martin Boetz.
On the menu for punters was baked chicken coated in breadcrumbs, doused in parmesan cheese, with garlic and rosemary roast potatoes, and a big vegetable tabouli.
(Folklaw's getting hungry)
The event saw more than 100 of the country's top CEOs, including Merivale maestro Justin Hemmes and Qantas' Joyce, form teams to follow the lead of one of 35 renowned professional chefs, including Maggie Beer, Pete Evans, Miguel Maestre, Matt Moran and Neil Perry.
The CookOff required that the CEOs whip out their best culinary skills as they prepared meals for 1000 hungry and homeless Australians. 
Joyce raised a whopping $58,000, CBA contributed $2500, Airbus $5000 and Consolidated Travel $10,000.
Teams were given one hour to prepare a tasty dish, and upon completion they not only served it to those in need but got to sit down and enjoy it with them.
Folklaw (leaving political leanings aside) believes the million bucks pledged will do great things for homeless people - provided it all gets collected of course – and chief executives must be feeling pretty good after doing their bit for charity.