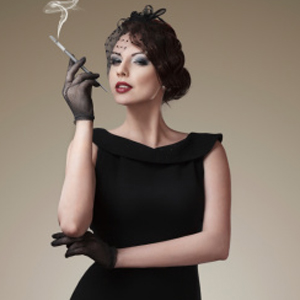 Smoking, wearing a red beret and a tight yellow slit skirt is probably not how people are accustomed to seeing senior crown prosecutor Margaret Cunneen, but that is how she is depicted in a painting in a new exhibition entitled 'Wicked Women'.
The paintings, by Australian artist Rosemary Valadon, feature femme fatales in the style of classic film noir posters and pulp fiction covers, but with the faces of prominent, modern Australian women.
Reuters reports that, as well as Cunneen, the models in the 17 oil paintings include lawyers, journalists, designers, actresses and three staff members from Sydney's Justice and Police Museum, where the exhibition is being held.
The models posed with replicas of original guns and weapons that are displayed at the museum.
"'Wicked Women' is an exciting series of works because it explores the perception of hot-blooded women in an era when women were expected to be more demure and compliant than they are today," Cunneen told Reuters.
"These women, in my view, were portrayed as sassy, sexy and impulsive to the point of dangerousness. I think the work evokes a passionate, gutsy and high-spirited woman who has been strengthened, through hardship, to ultimate resilience."
It took Valadon two years to complete the paintings in the exhibition, which will run in the Museum until late May.
Folklaw will definitely be paying a visit for a chance to see one of the country's leading legal lights get a little 'wicked'...